SEASONAL SELF-CARE BLOG
---
Choose the Path
Posted on January 3rd, 2019
---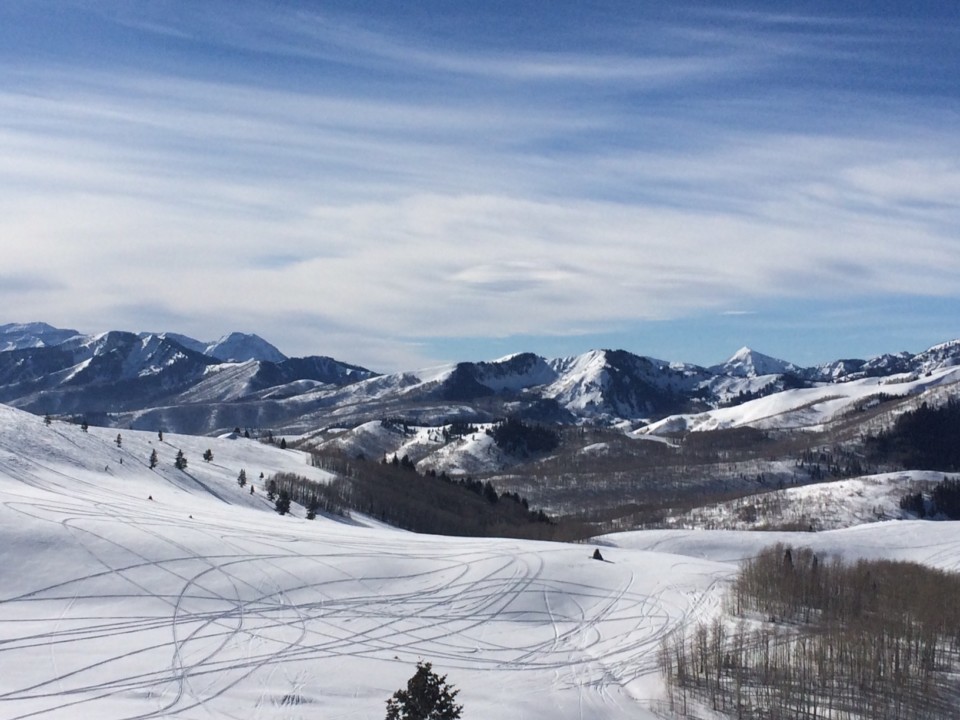 I am deeply blessed to be spending New Years with my family in Utah, skiing, snowshoeing, and having a fabulous time! I feel nourished by being immersed in the quiet presence of pine and aspen trees, majestic snow capped mountains, and immense blue skies. Being deeply absorbed in Winter stillness is the perfect condition to reflect upon my life and the new year.
Today I had an epiphany when I was skiing. For years I've been trying to ski the moguls, also known as "the bumps". After a day or so on the slopes, I feel warmed up enough to tackle the bumps hoping to make some progress on what feels to be a lifelong challenge. Today Liz, my sister in law, and I arrived on the top of "Peeler", a good mogul field with intermediate bumps-the perfect place to practice! Full of good intention, I started down the mountain and within 30 seconds I was all over the place, my legs splayed, one leg in the gully, the other on top of the mogul, the next big mogul looming way too quickly in my face, pushing me into survival mode, doing anything possible to keep from a major face plant. I managed to pull it together and by the time I got to the bottom, where the moguls were easier to handle, I was able to do a few in rhythm which gave me enough encouragement to return again up the mountain. This has been my experience for years. I keep returning up the mountain to figure out the key to "the bumps" so that I can have a smooth path in rhythm all the way down the mountain. While riding the chair lift back up the mountain, I do what I often do, watch the expert skiers as they dance through the moguls, their turns carving in tune with the mountain. I look for some pointers, some keys to the mystery. I strain my ears to listen to the ski instructors as they give tips to their "mogul" students. From the lift I can only hear snippits of their instructions, and this time I heard basically the same thing at least 4 times. "From the top of mountain, choose your line down." I've heard this instruction before but I realize that usually I only really focus on just what is just in front of me –  the first 2 or 3 moguls and I never look at the whole path down the slope. So this time when I got to the top of  mountain and looked down the sea of moguls, I chose an entire path down the mountain and with confidence pushed off. To my great surprise I actually made it halfway down the mountain without slipping dangerously out of control. It was amazing. It really worked. I skied "Peeler" all afternoon, picking up and integrating more tips and progressed until the final run when I felt in rhythm with the moguls for almost the entire run. Success! The key – "Choose your line down".
In our lives we are so preoccupied with the issues of the moment. We get tangled up with the problems of any given day, distracted and taken off course. We feel like we don't have the time to pause and look at the bigger picture. Wintertime and New Years, in particular, gives us this opportunity to take a moment and reflect, look down the mountain at the year and chart a course.
Interestingly, on New Years Eve I came across the question "What am I choosing?" and immediately started writing in my journal. I was inspired by this question instead of similar options…What am I inviting in? What am I cultivating? Many paths are possible and it is through my choice, my unique direction of thoughts and actions that my individual path unfolds. It is really all up to me, my choice, my agency. It all begins with the direction of my thoughts and actions. In the moment of choice, I release other options. I let go of attachment to other possibilities. I clear the path of distraction. The key – when I choose with clarity and visualize the future, "choose my line down", my path will fully manifest with ease.
The other question I really have been enjoying is "What am I missing?"  I invite you to do some reflection and writing on these questions to cast the trajectory of your life in 2019.
radiant spirit!
Leigh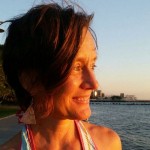 ---
Inner Sound
Posted on December 10th, 2018
---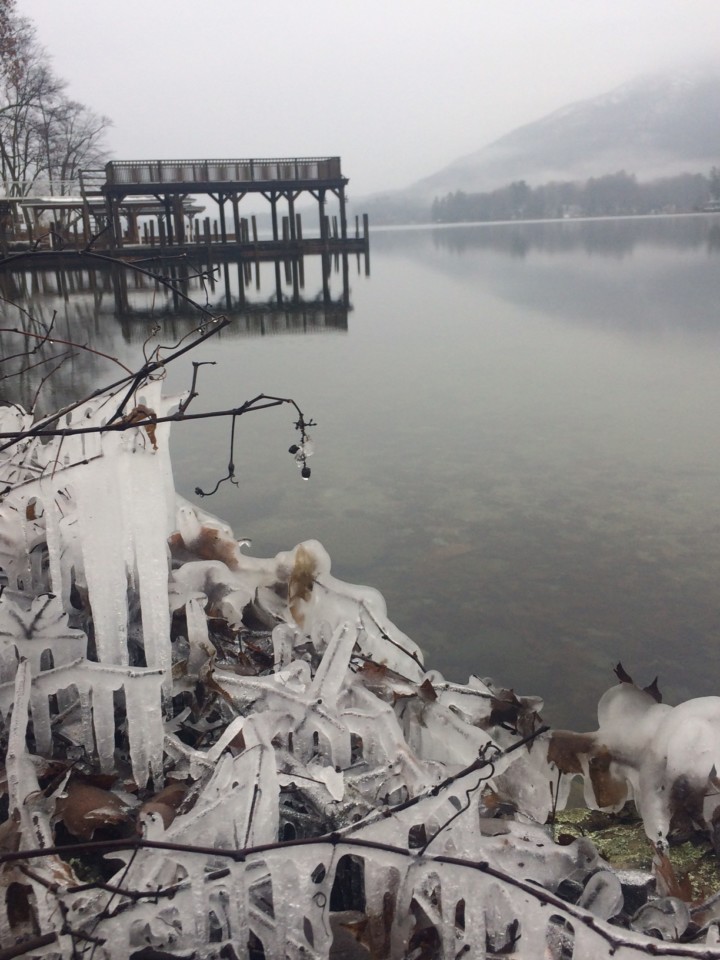 I took this picture of beautiful Lake George when I was celebrating Thanksgiving with my family. It was one of the first snowfalls of the season and a great quietness and sense of peace spread across the lake. I was happy to have a warm cozy fire and a comfy couch to snuggle up on once inside.
Winter  is  the  time  of  hibernation  and  restoration.   The stillness  and  quietness  is  displayed  throughout  the  natural  world.  The  frozen  water  on  the surface  of  the  earth  provides  the  necessary  darkness  and  quietude  for  the  seeds  and  roots  to tap  in  with  their  source  and  nourish  germination.  As  we  too  are  part  of  nature,  in  Winter  our beings  need  to  draw  inwards  to  consolidate  our  essential  energy,  qi  or  prana.  As  we  let  go  of  our constant  outward  activity  and  take  rest,  we  return  to  our  source  and  preserve  our  roots.  It  is  a time  to  talk  less  and  listen  more.
According to Chinese Medicine,  Winter is the Season of the Water element and the Kidneys. Known as our root organ, the kidneys generate and store the original material that creates the fundamental basis for all of our other tissues. The Kidneys also govern the ears and hearing. Winter is a very powerful time to work with sound healing. The vibrations penetrate deeply inside your body, traveling in the waters of the body, providing nourishment to your deepest root and essential energy. The kidneys are also known as the Mother organs. As you nourish your kidneys, your entire organ systems will receive benefit.
I encourage you to take some time out this Winter and nourish your ears and kidneys with  Sound Healing.  I am offering Private Sound Healing Sessions and Gift Certificates for your loved ones for the Holiday. You can get a Holiday package and get one for yourself too! Or join me for one of my Restorative Yoga Sound Baths, this Sat. night (Dec 15, 7-9pm) at Sacred Sounds in the city and weekly on Wed. 8-9:30pm at Narayana Yoga Project in Greenpoint.

Sound Bliss awaits!
Leigh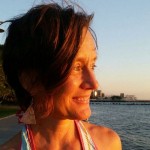 ---
3 reasons to nourish our water element
Posted on November 16th, 2015
---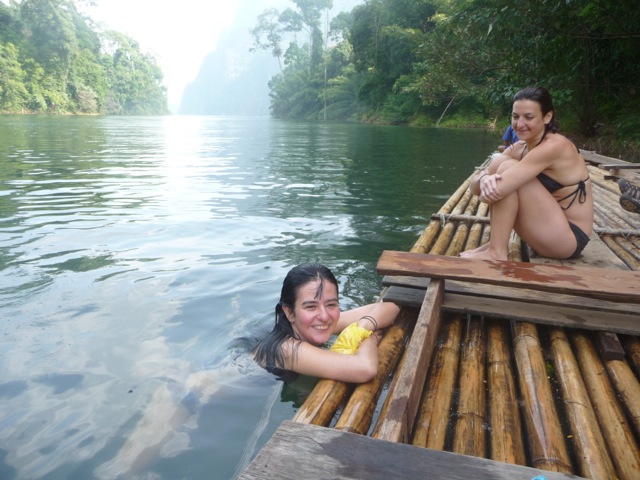 Water is the element of the second chakra, "Svadhisthana". Governing our reproductive and urinary organs, the second chakra guides our sexuality, emotions, intimacy, pleasure, desire, and personal relationships. Deeply nourishing, water invites fluidity, cleansing, flow, lubrication, ease and support both in our bodies and  lives.
The healing powers of water draws us all to oceans, lakes, rivers, streams, waterfalls, swimming holes, hot springs, hot tubs, bath tubs, and steam rooms to be restored and rejuvenated. I teach all of my yoga retreats on the water immersed in nature to help restore our stressed out body/minds and nourish our spirits. These pictures were taken at my Thailand Retreat at Jungle Yoga, our gorgeous retreat center, floating on the water in the midst of Koh Sok National Park. It is incredibly healing to be immersed in the elements so completely!
As fabulous as it is to submerse yourself in water in nature, here are 3 reasons why it is also important to nourish the water element within our own bodies.
In Ayurveda, Ojas, our primal vitality, is the subtle energy of water which nourishes and sustains us. Similar to primordial yin, Ojas offers us endurance and resilience through cellular immunity.
According to Chinese Medicine, the kidneys, often referred to as the mother organ, are the connected to the element of water, governing all that flows within us. They rule the reproductive, developmental and urinary systems, the health of the lower back, our bones, and hearing. Since our bodies are said to be approximately 70% water, we are bathed in an internal ocean of fluids and the health of our kidneys is essential.
Unfortunately our stressful lifestyles, overwork, lack of sleep, overindulgence in caffeine, sweets, sex, prescription and recreational drugs, and environmental toxins, among other things overheats our system, weakens our kidney chi and we feel "burnt out". In this state, the cooling capacity of the kidneys is tapped out and unable to cool our overheated state.
How to nourish your kidneys
To restore fluidity, easeful flow in our beings, we can do specific yoga and self-care practices to help nourish the health of our kidneys, the water element within us, and our "Sacral chakra." Winter is the Season to tend to the kidneys and water element.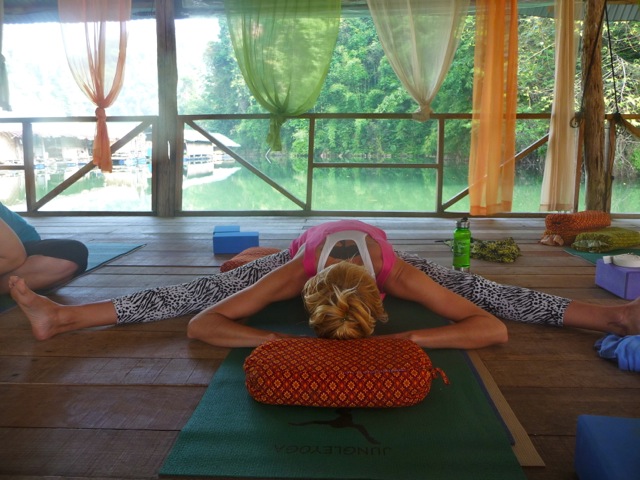 Upavista Konasana, is deeply nourishing for the Kidneys. Opening the inner leg lines which correspond to the Kidney meridian, this pose nurtures the cooling, healing, yin energy in our body/mind. Try practicing Upavista Konasana lying with your belly supported by a bolster-it's delicious! Make sure your head is resting on support to invite deeper cooling and calming for your mind and nervous system.
Join us this Winter for our Thailand Yoga Retreat, Feb 20-27, 2016 and immerse yourself in nourishing yoga practices and the healing waters!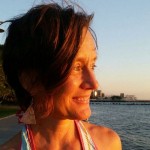 joyous heart!
Leigh
---