RADIANT HEART RETREAT: THAILAND -
with Leigh Evans
March 3-10, 2023
Join Leigh for a week of divine yogic bliss! Open your heart, awaken your mind, and heal your world weary body. Let your spirit soar! Join us and salute the sun daily from our bamboo yoga pavilion floating on a lake in Southern Thailand.  Embrace this opportunity to deepen your yoga practice amidst the magnificence and mystery of Khao Sok National Park, abundant with wildlife, tropical jungle, peaceful lakes and spectacular limestone rock formations.
Check out the video from one of our retreats at Jungle Yoga!
Jungle yoga is a remote, rustic, spectacular retreat center, comprised of separate bungalows with interconnecting bamboo walkways and a floating yoga pavilion. The tropical jungle is home to serpent eagles, langur monkeys, gibbons, hornbills, and many other rare birds and animals. It is an incredible opportunity to explore the plant and wildlife of the rainforest and enjoy kayaking, snorkeling, and swimming on this beautiful lake amidst the majestic limestone karats. Relax & rejuvenate!
Oh…….did I mention that there are kayaks right there on the dock to hop in and paddle to your delight.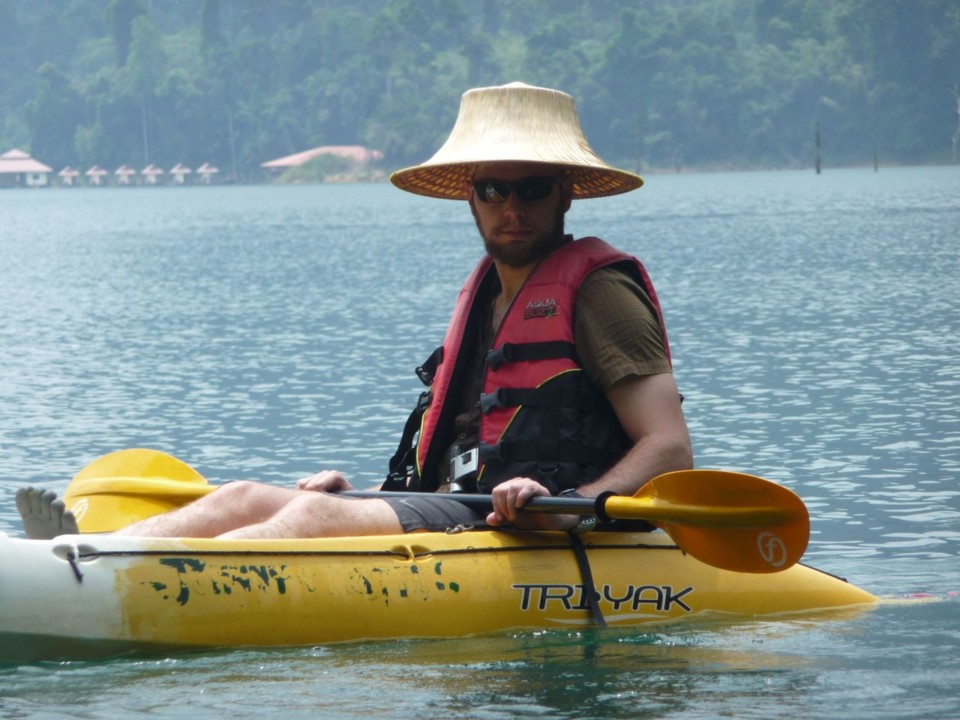 We especially love our early morning kayak meditations on the lake to hear the jungle wake up!
About Leigh Evans – our teacher
Passionate yogini and explorer, Leigh Evans is a yoga teacher based in Brooklyn, New York. For travelers seeking getaways that engage all the senses, encourage growth… and that are simply beautiful, relaxing and unique, Leigh has it covered. For over a decade, Leigh has led hundreds of people on experiences of a lifetime: from sweat lodges in Mexico to asana among the monkeys in Costa Rica, giraffes on safari in Africa to jungle vinyasa in Thailand!
Whatever your age, skill level, past, present or future, Leigh Evans provides personal instruction and expert anatomical alignment. Through decades of teaching thousands of students, Leigh's seasoned approach to the practice can transform any student who craves insight on the body and the human experience. Your practice is what you make it, and Leigh can help you make it your personal best. Leigh is a go-to resource for Ayurvedic Yoga, seasonal yoga practices, sleep yoga, and women's yoga practices. From the study of Yoga and Ayurveda in India to Thai Massage in Chiang Mai, Leigh's breadth of knowledge gives her the tools to teach practical applications that can change students' everyday lives. Through an integration of vinyasa yang and restorative yin practice, Leigh's classes enhance the flow of prana in the body by nourishing specific energy channels and organs offering healing and transformation. Leigh teaches festivals, teacher trainings, retreats, and workshops nationally and internationally.

Hear about retreat participants experiences

I was fortunate enough to join Leigh on another of her fabulous, adventurous yoga retreats…this time we were invited to Thailand to Jungle Yoga in Koh Sok National Park. I must say it is one of the most beautiful locations for practicing yoga, touching nature close up, and experiencing a generous and gentle culture.
We floated ourselves to the dining room, to the yoga studio, and our fantastic bungalows…what could be more tropical and out of this world than to dive into the warmest of pure waters in the moonlight…and in the daytime, see and hear the sounds of the jungle while in Vrksasana! It was heaven.
Leigh Evans is an exceptional and knowledgeable teacher…she is sensitive to individual needs and levels of practice…I have followed Leigh from her studio in Brooklyn, to the exotic & diverse places she plans her retreats…I have always had amazing experiences!
– Barbara Groh-Wahlstrom
This is a great opportunity. I attended Leigh's past retreat at Jungle Yoga and had a life changing experience. Jungle Yoga is a truly magical place and Leigh is an extremely gifted, generous and dedicated teacher. She gave everybody individual attention. Classes where dynamic and restful at the same time. She met everybody at their level creating a safe and fun environment where everybody could deepen their practice at their own pace. Leigh also brought together a very special group of people where camaraderie and friendships were forged over sharing wonderful experiences together. I recommend this retreat and studying with Leigh to anyone who is interested in developing their yoga practice. – Graciela Fuentes
Accommodations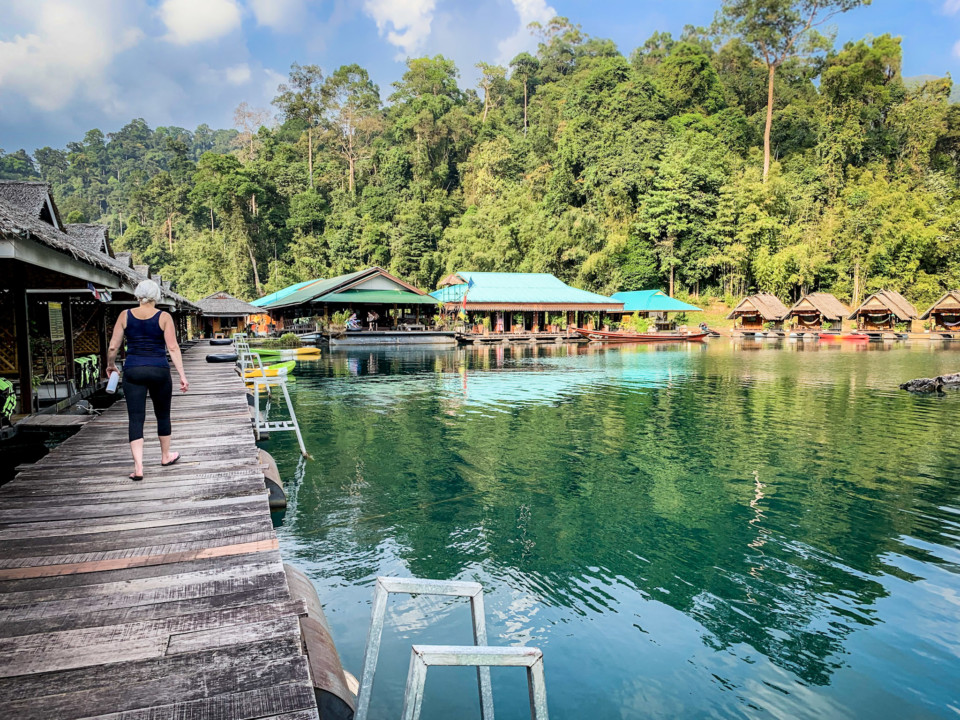 You are in for a real treat! Jungle Yoga is the perfect antidote to our busy lives. Simplicity and ease is the way at Jungle Yoga. Everything you need is there, and you can just relax and receive. The bungalows are sweet, simple, natural and comfortable. All the bungalows are on the lake interconnected by bamboo walkways. Each bungalow has front balcony with a hammock for some chillaxing – it's divine! There are two Shared Bungalow options: Our Deluxe bungalow is great for couples with a King or Queen bed and ensuite bathroom. The Double Bungalow is perfect for 2 yogis sharing. It has two large double beds with ensuite bathroom. For our single bungalow options we have our classic bungalows which is great for solo yogis. It is a classic thatched bungalow with a king bed and separate shared bathroom facilities. For those who want their own bathroom, the single deluxe bungalow with an ensuite bathroom is for you!
Deluxe bungalow with ensuite bathroom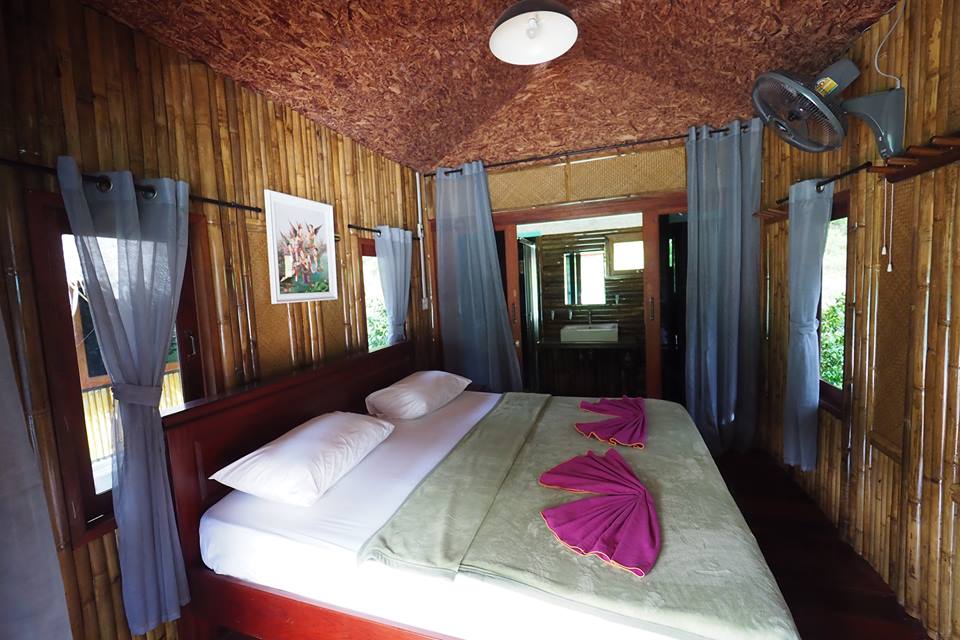 Classic Bungalows with shared bathroom facilities
We are immersed in nature at jungle yoga and the life is simple and natural. There is no AC in any of the bungalows. We enjoy the breeze from the lake and sliding right into the water outside your bungalow for a sweet refreshing swim in the lake.
Did I mention that the food is absolutely incredible Thai food?
Oh…..and the ice cream man arrives in a boat. Needless to say, we bought him out every time…..it doesn't get any better than this.
---
Registration Details:
Radiant Heart Retreat
Includes
2 yoga classes a day: dynamic yoga class in the morning, slower more restorative practice in the afternoon
Evening practices including yoga nidra, meditation, chanting
1 day excursion boat ride and cave walk
3 insanely delicious Thai meals per day

 Round-trip Group transport from Surat Thani Airport to venue:  90 minute group van ride followed by 45 minute gorgeous boat ride to Jungle yoga.
Shared Double or Deluxe Bungalow
shared bungalows with ensuite bathroom
$1,600 per person- Buddy Special – due in full by 10/15/22
$1,750 per person – Early Bird – due in full by 11/15/22
$1,850 per person – due in full by 2/15/22
Single Classic Bungalow
Single bungalow with shared bathroom
$1,650 – Early Bird – due in full by 11/15/22
$1,750- due in full by 2/15/22
Single Deluxe Bungalow

Single deluxe bungalow with ensuite bathroom
$1,950- Early Bird – due in full by 11/15/22
$2,050 – due in full by 2/15/22
Registration
Reserve your space with a $300 non-refundable deposit. When placing your deposit, please indicate your accommodation preference. Balance due as noted in pricing options.
Payment accepted through venmo and zelle with leitzu@earthlink.net. Checks also accepted.

Contact Leigh
info@leighevansyoga.com
YOGA SUKHAVATI CANCELLATION POLICY
Refunds, (less your non-refundable deposit), are available up to two months prior to start date of the teacher training, retreat, immersion or workshop. one month prior to start of the teacher training, module, retreat, immersion or workshop your payment can be issued as credit towards a future teacher training, retreat, immersion or workshop where space is available. For cancellations less than one month prior to start date, all fees are non-refundable and not transferable.