SEASONAL SELF-CARE BLOG
---
Q & A with Shyama Chapin
Posted on May 29th, 2015
---
The Yoga Sukhavati: Art of Sound module begins the weekend of June 12 with the very talented Shyama Chapin. Learn more about Shyama and the meditative effects of kirtan.
Where are you originally from? How long have you lived in NYC?
I was born in Elsah, Illinois, where my dad was a college professor. But I mostly grew up in New York City, through high school. Then I went as far away as I could, to New England and then Northern California. I've been back living here since 2009. I'm still not quite sure how that happened! 
What is kirtan? What does kirtan mean to you?
Kirtan is a practice that is part of the tradition of Bhakti Yoga from India. It is simply call and response chanting, singing in a group with someone leading and everyone else responding. Namakirtan specifically is the practice of chanting what are called the Divine Names, which are Sanskrit words that have been revealed to a being in a high state of realization. They are considered to be various ways of naming that essential reality which is the ground nature of everything that is, including us of course! One of many paradoxes is that this reality exists beyond name and form, but yet when we call out to it, that invocation gently intensifies our awareness of this reality which is our own true nature—which is Love. You could say that all of these names are simply names of Love.
The practice of chanting the Names is also a method of beginning to release our obsession with the stories we tell ourselves about ourselves and the world that cause us so much pain. For me personally, it has been a huge grace and blessing to be given this amazing boat to rest in in the middle of the wild and confusing ocean of my mind and my life!
How long have you been practicing kirtan? How did you get interested in it?
I always know when I first became aware of this practice, because it was right after 9/11. I didn't so much get interested in it, which would be sort of a intellectual thing, as find myself completely drawn to it without giving any thought to why. There's a story about how that came about that is too long for here…maybe I'll tell it as part of the workshop!
In addition to kirtan, you also play the harmonium.  Have you always been a musician? 
Actually, I play harmonium when I'm chanting, and not really outside of that. So it's part of kirtan for me. When I started leading kirtan, I was chanting with a folk instrument from India called an ektara, which is a gourd with a skin head and a long neck attached, and one or two strings that are played in a rhythmic drone. I started with that, I guess, because I've been a guitar player since I was a kid, and strings seemed natural to me. 
My dad was a choir director and a pianist and organist, and I took piano lessons from him from age 3 to 7, when I quit! He actually gave me a guitar then, and told me he didn't know how to play it…I basically hid in my room singing and playing it pretty incessantly for a bunch of years after that, and started writing my own songs.
Later I started performing my songs solo with the guitar in New England and California mostly, and recorded a solo CD. And I was in a jam band in the Bay Area with a bunch of friends that did some recording as well.
What would you tell someone who is interested in kirtan, but may not be musically inclined?
The thing is, the practice of kirtan looks like it has to do with music, because there's music along with it, but it's actually not fundamentally about the music. It's about repeating the Names, which is where the juice is. So practicing kirtan as part of the response group doesn't require any musical ability at all, and in fact if you are inclined to be distracted by how nice your voice is, or how musical you are those things can be distractions to the practice for sure. Of course, if you are inclined to be distracted by how much you dislike your voice, or whatever, that can be distracting too!
If you want to lead kirtan, there is a little bit of musical ability that is called for, just to hold the thing together. But not really that much. You can keep the chant really basic musically and have a fantastic kirtan.
How do yoga asana and kirtan compliment each other?
Both asana practice and kirtan practice require concentration and awareness, and ultimately the reality that is being approached is the same, since it's the only reality there is! But the vehicles are quite different: the physical body/energy body in asana practice and the heart/mind in kirtan practice. So there is a nice balance energetically when you bring them together I think. The practice in the body supports the mind/heart practice in a really lovely and helpful way, and vice versa.
Has there been one particular kirtan experience that stands out to you? If so, please share.
Chanting directly in front of my guru in India, when I have done that, has been a huge blessing and teaching. It's another long story (or two!) But many many kirtans have been high points for me…actually any opportunity to chant with others in this way is a high point…I totally mean that. One of my favorite memories is of a kirtan a while ago in Massachusetts at a little yoga studio: my drummer had to bail at the last minute, and only one person came to sing. So it was just the two of us and the harmonium and she had never chanted before! But she wasn't afraid to sing, and she caught on to the idea of singing back and forth with concentration right away. We sang for a couple of hours and it was amazing! Really beautiful.
What are you most looking forward to about the workshop with Yoga Sukhavati?
Chanting the Names together, of course…it's the best thing there is! And also exploring the practice together in a way that hopefully empowers everyone who comes to feel confident about bringing it into their personal practices and their yoga asana classes as well. I hope everyone will bring both open minds and a willingness to ask lots of questions.
What can you be found doing when you are not leading kirtans?
I am a New York State licensed massage therapist, seeing clients at Greenhouse Holistic on Bedford and North 7th in Williamsburg from Thursday through Saturday, as well as through Zeel Massage on Demand and privately. I also travel to students' homes in the NYC metropolitan area to teach private harmonium lessons for chant practice, and I work as a personal assistant one day a week. 
Whenever I can, I love to chant with my friends' when they are leading kirtans—I'm very lucky to have a lot of friends who are great kirtan walas, including Krishna Das…practice with all of them and especially with him is a huge grace for me. 
When I get a chance, I like to spend time outdoors in the country…woods, mountains, ocean…it's all good and makes me happy as clams. And occasionally I sleep.
Come practice and learn kirtan with Shyama (and Leigh Evans) at The Art of Sound workshop, June 12-14 at Loom Yoga Center in Bushwick.
Friday, June 12: 6-9p.m. – Kirtan with Shyama & Band
Saturday, June 13 and Sunday, June 14: 9a.m.-12:30p.m. and 2-6p.m.
To learn more about Shyama, visit her website, shyamachapin.com. 
---
Spring Cleanse
Posted on May 13th, 2015
---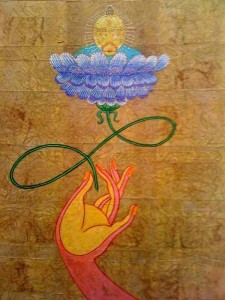 I just made my first batch of Kitchari for my Spring cleanse. It is delicious and I feel ready to detox! Now that the weather is warm, it's the perfect time to dive in and do your Spring cleanse! In fact every cell in your body is begging you to cleanse the congestion out of your liver and gall bladder organs. Once cleansed, your will feel calm, stress and tension free, decisive, insightful, emotional ease, and in contact with our personal power and capacity for leadership that are the attributes of a balanced liver network. Invite a state of balance and vibrancy into you being!
It is often difficult to slow down our busy lives and take the time to properly do a juice cleanse. Particularly if you are vata dosha, it is more effective do a traditional Indian Kitchari cleanse for 3-5 days. Kitchari is a simple cleansing highly nutritious combination of mung beans and rice. It both cleanses your system and strengthens your memory.
Whether you choose to do a juice cleanse, or a mono diet like kitchari, it is essential to offer ways for the toxins to leave your body. I find it most effective while doing a cleanse to be sure to continue to take plenty of balancing, nourishing and purifying baths. The skin is the largest organ in your body and a large part of our detoxification process. See our Spring Practices post on purifying seaweed baths!
KITCHARI
by Annie Kunjappy
chef for Yoga Sukhavati Seasonal self-care workshops
1 cup mung beans (soaked overnight)
1 cup brown basmati rice
1 onion diced
8 cloves garlic chopped
1 cup finely sliced leeks
1" piece ginger chopped
4 Tbsp coconut oil
2 tsp ground coriander
2 tsp ground turmeric
1 cup chopped scallions
½ cup chopped cilantro/parsley
Sea salt and lime/lemon juice to taste
Cook mung bean in pot with 4 cups of water and a half teaspoon of sea salt until soft.
Cook basmati rice in 2 cups of hot water until done.
In a separate pan, heat coconut oil, sauté onions until soft. Add leek and continue until soft. Add garlic, ginger, coriander and turmeric and sauté for 1 minute.
Mixed together the cooked beans and liquid with the cooked rice, and the sauted ingredients.
Add chopped scallions and cilantro.
Season with lime juice and sea salt to taste.
---
Q & A with Yoga Sukhavati Graduate Seth Lieberman
Posted on May 8th, 2015
---
Yoga Sukhavati graduate, Seth Lieberman discusses the Yoga Sutras, living your practice and what teaching means to him.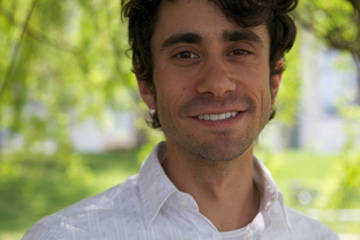 When did you start practicing yoga? How did you find yoga?
I started taking classes consistently about 8 or 9 years ago when I first moved to New York. I was working at the Jewish Community Center in Manhattan and they offered yoga classes through their fitness center. My first consistent teacher there was Michael McArdle, whose class I took weekly for several months, and lower back pain I was having disappeared completely. I've been practicing pretty consistently since that first class with him way back when. 
How has the practice changed your life?
It's spread so much into all areas of my life that I don't fully know the answer. It's all pervasive. So I'll just respond with a few things that might help others who come from a similar background of anxiety, depression, and confusion: It's brought the baseline for my emotional and mental stability much higher, as I came to the practice after years of severe anxiety, panic attacks, depression, and a variety of medication. I have firmer grounding after years of continuous practice. I've been studying Patanjali's Yoga Sutras and this week's sutra, 1.14, I've been looking at and sharing in class says (based on others' translations) that your practice becomes firmly grounded when you do it for a long period of time without interruption and with respect and devotion to resting in your deeper nature. So I've been practicing for a relatively long time, 8 or 9 years, without break and sincerely, and I've seen some amounts of stability come after some years. I've experienced some really amazing, positive, immeasurable change in my life. Yoga practice hasn't made me fundamentally different so much as brought out good qualities that were always there and subdued the ones that weren't helping me or other people. I'm also now founding a really authentic connection with faith, which is something that I also had before practice but my practice is helping me fortify and give shape to. But there's still a lot more ground to cover and keep covered, or make firmer, so to speak. 
What were you doing before you took your training?
Before I took the training I was working at the Jewish Community Center, like I mentioned above, supporting their Membership and Program Registration Department. It's a wonderful organization that offers a broad range of services not just the Jewish community but all people, all ages, all backgrounds. I worked directly with the public in my position and also directly with almost all departments of the organization, so I had a very rich and diversified experience with the center. It was my first job in New York and I couldn't have asked for a better place to get work and life experience. And I've been fortunate enough to stay connected by teaching yoga and meditation classes there throughout the year for their program of free Saturday classes, called "R&R", and meditation and rooftop yoga with their 20s and 30s group.
Why did you decide to take a 200-hr teacher training?
Like any big decision it's really a coming together of reason and intuition and it did for me. From what I remember initially I was actually interested in teaching yoga, where as many were unsure about it when starting the training. Some people at work had suggested I'd be good at it and I began teaching them privately as a trial before I did the training. They encouraged me to continue teaching. I had experience teaching private music lessons and substitute teaching in public school when I graduated college so I felt I could build on that experience and could share something I had already benefited from. That was the reasoning part of it.
In terms of the intuition, at one point when I was considering doing it, my whole body vibrated a resounding "yes." That was pretty much what I needed to go ahead.
What stands out the most about your experience from your teacher training?
It provided a structure for me to continue my studies in a way that I couldn't have accomplished on my own. It connected me with a community of people with whom I've grown deep personal and professional connections, without whom I wouldn't be anywhere close to sitting where I am typing things like this right now. Support for study, and support of sangha (spiritual or true community) are big ones. And, man, it was just such a potent, exciting, mind-opening, tumultuous, challenging, rewarding, unrecreateable (it's a word now, spellcheck) experience. It was like a catalyst for personal and spiritual growth that just got even better as it metabolized after it was over. 
How has the Yoga Sukhavati training transformed your life?
My life? Well, it has gotten me much more deeply tapped into the seasons and the potential of working with natural rhythms. In that way it's reconnected me to both a child-like appreciation of nature and given me a more informative way of taking care of myself. Seasonal shifting can be hard on us and we don't often realize how we are as much a part of nature as what we call nature. We are sensitive to these changes. We need to modify our lifestyle each season. Yoga is often defined as some type of integration. Adjusting to the dietary, activity, psychological, physical, and emotional callings of each season becomes an integration of yourself with your environment. It's an art both of the intellect and the intuition. It's been a lot of fun working with these changes and knowing how to take better care of myself and thus sharing it with my students. 
What are you doing now?
I'm teaching private harmonium, voice, and chanting lessons, accompanying yoga classes with live music, teaching mantra and chanting as part of yoga teacher trainings, leading kirtan, leading yoga workshops and retreats, and of course keeping a weekly yoga class schedule at Greenhouse Holistic and Loom Yoga. My background as a classically trained musician is really integrating well into my life as a yoga practitioner at the moment.
How was it to work with Leigh?
Leigh is a wonderful teacher and working with her has inspired my own teaching and practicing. She is bright, creative, passionate, knowledgeable, compassionate, deeply experienced as a teacher and practitioner, and she really cares about her students doing well. She is also an artist and that type of creativity really comes through her teaching and has informed my own approach. She can incorporate material from lots of different sources, like yoga, Chinese Medicine, Ayurveda, and daily life in New York, and craft it into a rich experience for students. Anyone who has taken her class knows her brilliance. She also lives her practice. Her life and teaching are so well integrated and she really embodies what she teaches. I've tried to adopt a similar approach to life and teaching and commitment to my students. She is really a remarkable teacher and I'm grateful to have come into contact with her.
What advice would you give to someone who was on the fence about doing a 200-hour teacher training?
If you're excited about it, all the cells in body vibrate "yes" at one point or another, and the timing feels right, then see what it is that is holding you back. Is it just fear? Well, then do the training. That's what it's for. Are there other logistics in terms of schedule or time? See if you can work them out. It might be worth it. There will always be little hang ups or doubts or things to work through when making a big decision. I did the training while I was working 40 hours per week in a management position and it was both exhausting and exhilarating and it was completely the right decision. If you can work it out now, you may not come across another time where it works or everything is "perfect." So, if you come to your intuition and it says "yes, now", then swing that other leg over the fence because I can't imagine it's comfortable spending too much time on that thing. You could be preparing for an awesome experience instead. 
What stood out to you about the Yoga Sukhavati 300-hour Advanced training?
This is the only training I know of that integrates seasonal wellness, yoga, Ayurveda, and Chinese Medicine into one training. That is unique in my experience.
What do you like most about teaching yoga?
I very often find myself saying something in class that I need to hear, or teaching something that I need to practice. I then feel accountable and responsible for practicing it if I'm going to ask other people to practice it. It has kept me on a path. There's a Gandhi story where a mother brought his son to her to tell him to stop eating sugar. Gandhi said "Come back in two weeks" and when he did, he told the boy sternly to stop eating sugar. He needed two weeks to stop eating it himself before he could tell someone else to stop doing it. I'm way behind Gandhi in this regard and my words often come back to me after I say something in class. So, I have to catch up sometimes but at least there's that extra factor motivating my own practice. Teaching has provided structure and motivation and interest in being a student that I would be lacking without it. It has held up my practice at difficult times, brought me to places I wouldn't have gone on my own, and is continuing to teach me how to be more compassionate and patient. I like that about teaching. And not having to wear slacks and a button down shirt to work, especially in the summer. 
You can take class with Seth at one of his regular classes at Greenhouse Holistic or Loom Yoga Center. You can also find him online, via his website or Facebook.
---