200 Hour Teacher Training
Do you long to live a fulfilled life that reflects your innermost yearnings? Are you ready to deepen your yoga practice and invite self-care, clarity and insight into your being. Begin your journey to a fully integrated life. Step on the path to your whole luminous self and learn how to hold the light for others. With decades of teaching thousands of students, Leigh Evans has crafted a mindful, earth-focused Yoga Alliance Certified 200 Hour Yoga Teacher Training that fuses both the body and the earths' cycles, encompassing everything from anatomically based vinyasa yoga to ayurvedic wellness and women's practices to support the whole self in a lifelong journey of self awareness.
While providing you with the techniques to become a skillful and compassionate yoga teacher, the training also offers the means to live a life of balance. The 200 Hour curriculum combines alignment-based vinyasa practice and ayurvedic wellness, with a healthy dose of spirituality and a special focus on women's practices. In addition to cultivating strength and stability – both mental and physical – you'll work towards building a path of lifelong learning and personal growth.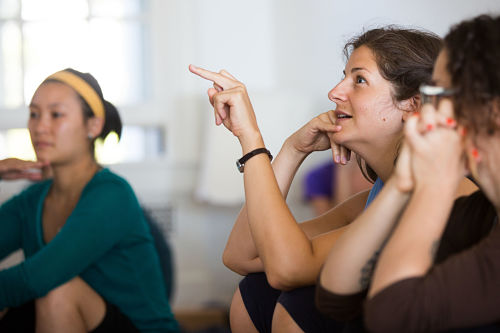 Are you looking for a positive life change? Is it time to make a commitment to yourself? Immerse yourself in the knowledge and the tools to care deeply for yourself with intensive training retreats offered in two 100 Hour Immersions, Level I – EVOLVE, Level II – EMPOWER. Both ten day trainings offer a thorough investigation of the alignment and energetic principles of the asanas and are infused with ayurvedic self-care practices and ancient yogic wisdom.
Level I – EVOLVE invites students who are simply wanting to deepen their yoga practice and enhance their lives as well as those who are on the path to becoming certified yoga teachers. Level II – EMPOWER offers many techniques to help you move through blockages that limit you, so you can manifest your true essence and take the seat of the teacher with confidence and grace. Once you have successfully completed both Level I and Level II, you will receive your Yoga Sukhavati 200 Hour Teacher Training certification and be eligible to register as a yoga teacher with Yoga Alliance (200-RYT).
CURRICULUM 
Asana – deconstruct & demystify alignment and energetic principles
Ayurveda – the Science of Life
Lifestyle of a yogi
The Joy of Self Practice
Women's practices
Introduction to Sanskrit
History of Yoga
Anatomy
Chakras & Subtle Body
Introduction to pre-natal modifications for vinyasa
Intelligent Creative Sequencing
Teaching Experience with Personalized Feedback
Hands-On Adjustments
Yoga philosophy
Finding your voice as a teacher
Yoga & the Emotional body
The Business of Yoga
Meditation
Pranayama
Chanting
Leigh Evans, (E-RYT 500) is the founder and director of the Yoga Sukhavati Teacher Training Programs 200 Hour and 500 Hour Yoga Teacher Training. Known as "a teacher's teacher" Leigh has brought hundreds of yoga enthusiasts and budding teachers to the next level of their experience, through her Yoga Sukhavati teacher training programs. Leigh has over 25 years of experience teaching intuitive, creative, alignment based vinyasa yoga classes. Leigh's seasoned approach to the yoga practice can transform any student who craves insight on the body and the human experience. From the study of Yoga and Ayurveda in India to Thai Massage in Chiang Mai, Leigh's breadth of knowledge gives her the tools to teach practical applications that can change students' everyday lives. Leigh has the pleasure of training over 200 of New York's finest Yoga teachers. It brings her great joy to guide and witness the transformation of her students as they develop the skills and awaken their voice and presence through taking their seat as the teacher. Yoga Sukhavati specializes in Seasonal asana flow classes infused with Ayurveda, Sound Healing, and Women's practices. Leigh has dedicated her life to studying, practicing and passing on the living wisdom of yoga, culminating in the Yoga Sukhavati teacher training programs. Leigh teaches trainings, retreats, and workshops nationally and internationally.

This training prepared me very well to teach publicly in studios, as well as create a regular home practice. I learned about the interconnection of the mind, body, and breath, as well as being in the present moment. This training transformed my life as it taught me a tool which I will carry with me throughout my lifetime.
– graduate 200 HR
"I feel my understanding of health, spirit, well being and traditional practices has been greatly enhanced. I feel like my yoga and self care practices are becoming more integrated, deep and personal."
"I continue to be inspired and invigorated by the training and find I can apply it not just to my classes and personal practice, but also can help friends and family with the knowledge as well."
– graduate 300 HR
For additional testimonials click here.

---