SEASONAL SELF-CARE BLOG
---
WINTER RADIANCE 2021
Posted on December 22nd, 2020
---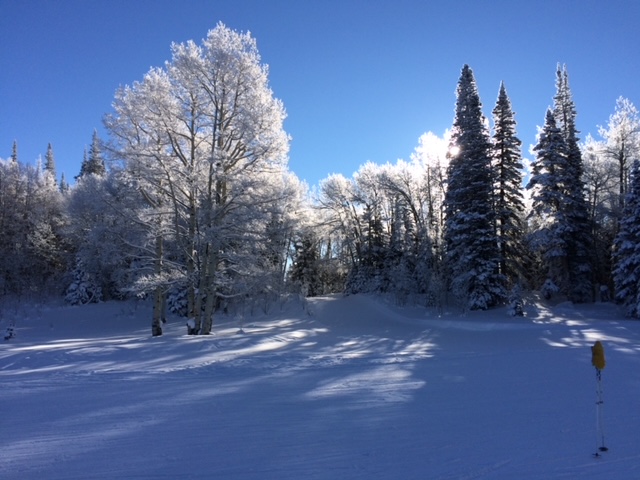 Breathe deeply and accept the jewel and the grit of this moment.– Mark Nepo
We're arriving at the doorstep of 2021 bruised and battle scarred but resilient and adaptable. No one said that evolution was going to be easy. Our entire way of being in the world is shifting and though we are getting more adept at the continually changing landscape, it's difficult. As Winter started approaching and it became apparent that things would be in various levels of "lockdown", I started feeling overwhelmed and alone. I leaned in more deeply to my home yoga practice, boosted my self-care, and picked up my accordion and started singing again. I started feeling more balanced, grounded, and connected with my deeper being. I am so grateful that I have these tools to help me reconnect, re-balance myself and access my creativity. My home practices have been my refuge, my oasis for many years.
This Winter, I would love to help you create or deepen your home practice so that you will have this refuge where you can re-connect with your deepest self and renew your being. I also want to help you really rest so that you can truly rejuvenate during these Winter months. I'd like to share with you many profoundly relaxing practices to help you sleep more deeply so that you can receive the nourishment and healing that only deep sleep can offer. In addition, since our yoga studios are closed now and we can't go on our fabulous Winter Retreat this year, I thought I'd create a way for us to gather together as a community. So I created the Winter Wellness Journey, as an opportunity for you to deepen individually as well as in the support of community so that we can flourish this winter.
This Winter Wellness Journey is offered live through weekly Zoom sessions, a monthly intensive restorative yoga workshop, as well as a facebook group where we will share our process as we deepen in our internal winter practices. All the sessions will be recorded for those who are not able to attend the session.
Winter Meridian Yoga & Yoga Nidra
Developing a Home Yoga Practice
The Art of Sleep & Rest
Join me and nourish the well of your being this Winter and cultivate your full radiance and vitality!
Happy Solstice and Happy Holidays!
Leigh
---
SLEEP ELIXIR – GOLDEN MILK
Posted on March 25th, 2020
---
One of my favorite sleep rituals is to drink a nightly cup of India's Ayurvedic gem, "Golden Milk."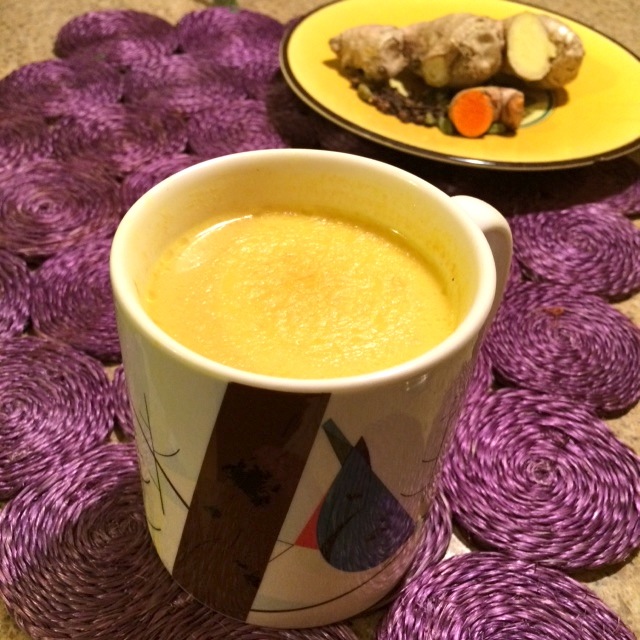 Every night before going to bed, I drink Ayurveda's "Golden Milk." It's an incredible sleep elixir and also very good for your digestion. It helps me calm down and relax so that I can get a good nights sleep.  The golden color as well as it's potent immune boosting power comes from tumeric, the gem of Indian medicine and cooking. Tumeric has incredible digestive, anti-inflammatory as well as antioxidant properties. Coupled with ginger and the spices, it becomes a digestive powerhouse and immune booster, as well as a magical sleepytime elixir! I've been drinking it every night. I love the ritual of grating the fresh tumeric & ginger and grinding the spices. The pepper unpacks and increases the benefits of the tumeric. Cardamom helps cleanse the body during the night with it's detoxification properties. Cloves are a digestive stimulant as well as a great boost for the immune boost system helping release sinus & bronchial congestion. Cinnamon is also a digestive tonic. Nutmeg is an amazing sleep aid. The coconut cools all the heating spices down creating balance.
I find it the ritual of making Golden milk comforting and helps me start to relax. Then I light some candles, and put some essential oils in my diffuser (lavendar, clary sage, geranium, and bergamot are my favs these days) and curl up on my couch and sip my "Golden milk". It makes me deliciously relaxed and sleepy!  Try it – You'll love it!
Golden Milk
Serves 1
1 mug of milk (almond or other nut milk, or coconut milk )
1 tsp fresh tumeric
¼ tsp fresh ginger
4 black peppercorns
2 cloves
2 pods green cardamon
Pinch cinnamon
Pinch nutmeg
½ tsp coconut mana or coconut oil
honey to taste
Heat up the milk and simmer. Grate the fresh tumeric & ginger and add to the milk. Grind the peppercorns, cloves and cardamon and add with coconut mana, cinnamon, nutmeg to the milk. Whisk until it becomes a gorgeous golden color. Strain & add honey. It's deeeeelicious!
Enjoy & stay well!
Leigh
---
SPRING GREEN SOUP
Posted on February 28th, 2018
---
Are you starting to feel a little gunky inside as the weather outside keeps shifting between Winter and Spring? Are you experiencing tight shoulders, headaches, eye issues, tight tendons, stiff necks, eczema and other skin problems. Are you getting agitated and irritable lately? These are signs that your Spring organ network, liver and gall bladder organs, are starting to get overwhelmed with the rising energy of Spring and need some loving attention.
SPRING GREEN SOUP

In these first sightings of Spring, warm sunny days sandwiched between snowy or rainy cold mucky days, my insides start waking up and dancing a little "I want to cleanse jig". But I know that it is still too early to do a juice cleanse or a full on detox. According to the wisdom of Ayurveda, you should wait until true weather to do a juice cleanse because it is too cooling and depleting for your system in the cold weather. But as we start shifting into Spring, I start gently sweeping the main pathways with a Spring Green Soup. It is warm, nourishing and starts the cleansing process in a very gentle way. I just made my first Spring Green Soup of the season! The recipe is from my dear friend, Nishanga Bliss, author of "Real food All Year". Back in the 90's she introduced me to the Chinese Medicine Seasonal food practices and we started our Seasonal Yoga workshops which blossomed all the way into my Yoga Sukhavati Seasonal Yoga Teacher Training!
The Spring Green Soup is delicious and easy to make! I chose to use Dandelion greens as part of my cluster of greens to include because of their bitterness and potency in cleansing the liver and gallbladder to help them stimulate bile production which helps break down foods and filters and detoxifes the blood. According to Chinese Medicine, Spring is the time to cleanse the liver and gall bladder, the wood element. So in went the dandelions to my Spring soup! I also added the digestive powerhouse and diuretic, Fennel to help relieve some bloating and indigestion I was experiencing. I'm feeling so much better after 2 days eating this soup & taking my purifying baths! When cleansing it is essential to offer ways for the toxins to leave your body, so I've been taking balancing, nourishing and purifying baths this week. Before I bathe, I do a simple skin brushing to get my lymphatic system in tip top shape. The skin is the largest organ in your body and a large part of our detoxification process  Check  out our Spring Practices post on purifying seaweed baths!
SPRING GREEN SOUP
Nishanga Bliss, from "Real Food All Year"
2 tablespoons ghee, lard, coconut oil, or olive oil
1 bunch spring or greenoinion, white adn green parts, coarsely chopped
1/2 cup fennel ore celery, coarsely chopped
1 quart Bone Broth, Poultry stock, or vegetable stock
2 small potatoes or turnips, diced into 1/2 cubes
1 bunch leafy greens, such as spinach, or arugula, or dandelion (include some others in addition to dandelion), coarsely chopped (about 2 cups)
1 tsp fresh or dried dill
2 tablespoons chickpea miso or white miso
juice of 1 lemon
Join me for my Spring Cleanse Flow workshop on Sunday March 25, 2018 at Sacred Sounds in Manhattan, NY or April 15 at BodyWorks in New Hampshire. Or you can download my Spring Cleanse video, and sweep out the cobwebs from home!!
joyous heart!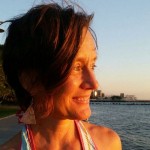 Leigh
---