SEASONAL SELF-CARE BLOG
---
cooling herbal teas
Posted on July 9th, 2019
---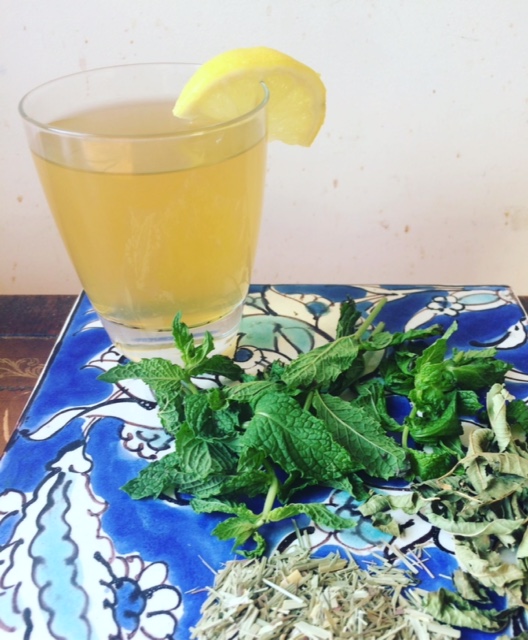 Usually in the Summer I love a good iced black tea. But all the ice teas in the store are now in plastic bottles. Since I've been really trying to be as plastic free as possible, I just can't buy them anymore. It's really frustrating! You might ask "Why don't you just make it?" But it just never tastes the same….so thanks to the inspiration of Plastic Free July and the intense humidity, I'm compelled to make an herbal cooling tea that I will love. Oh and according to Ayurveda, caffeine is heating and aggravates pitta dosha, the fire element, which is definitely true for me….(see above)!
Last week I asked my Facebook  friends for suggestions of their favorite Summer refreshing cooling drinks. Wow! so many people had great suggestions! Some I know and others like, "watermelon, beet, lemon, and mint", I had never tried before. It's been fun experimenting with the plethora of cooling herbs that help us make it through this sweltering heat: mint, lavender, lemongrass, lemon verbena, hibiscus, rose petals, roasted barley, chamomile, nettles, comfrey, dandelion, fennel, jasmine, kukicha, lemon balm, passion flower & other Summer favs – lemon, lime, and cucumber.
According to Ayurveda, Summer is the season when Pitta Dosha , the fire element can become agitated. You might be noticing some of the signs of Pitta out of balance as the heat kicks up. Are you irritable, cranky, or impatient? Is your skin itchy? Do you have hives, heat rash or acne? Are you stressed out, feeling obsessive, or judgemental? We can effectively cool our system and stay hydrated with refreshing herbal teas so that we can fully enjoy the joyous expression of the Summer's radiance!
I've been experimenting and love the pitta cooling mixture of  lemongrass, lemon verbena, and fresh mint tea with a touch of lemon and honey. It's incredibly refreshing, and makes me feel very relaxed. In fact, I'm sipping on some right now! Lemon verbena soothes inflammation, aids digestion, and offers calming qualities which also makes it a great sleep aid for those suffering from insomnia. Lemongrass detoxifies the body, reduces inflammation, fevers, infections, and swelling, and offers the bitter flavor and mint, our favorite Summer cooling herb, offers the sweet flavor both which calm pitta dosha. Lemons detoxify pitta in balance, though due to their sour flavor may stimulate aggravated pitta. Honey is heating to pitta, so use it sparingly. Enjoy!
Today I went to pick up some hibiscus and rose petals at Flower Power in the East Village. I've been trying my best to be plastic free and they have an incredible selection of loose, organic herbs and spices. I brought my own refillable cotton bags with me, but they also have small paper bags. It's #plasticfreejuly and small daily plastic free choices make a big difference in the landfill & the sea. AND small daily dosha balancing choices have a huge impact on our well being. So today I made the choice to purchase herbs for tea that would cool my system instead of agitate it and I chose to support a business that offers herbs without any plastic footprint. Every little bit helps us find balance within ourselves and the planet.
joyous heart!
Leigh
---
little choices every day
Posted on January 13th, 2019
---
I ran out of both of my bottles of olive oil a few days ago. I've been using my other oils, but dipping my bread in sesame oil just wasn't cutting it. So today I just had to get more. It's cold outside & I really didn't want to go out there, but I needed some olive oil and I'm also at the very bottom of my last refilled glass bottle of lotion. Since Integral Foods sadly closed last month, I've had to scramble and find places that I could refill everything. So this morning, looking at these empty bottles, I thought well I could just walk to the corner grocery store and easily get another bottle of olive oil, and lotion. It's so close, so easy, and one more bottle of olive oil and one more plastic container of lotion won't really make that big of a difference. I can at least recycle the bottle. It's cold out there. Another part of myself said, yes, but you know that it's a slippery slope, one bottle becomes two and three and convenience wins again and again and the Earth and ocean loose again. I know recycling isn't really the answer because "they" say that only 9% actually gets recycled. I don't want my plastic lotion bottle & olive oil bottle to be thrown into a landfill or floating in the ocean just because it's a little cold outside & I'm feeling lazy today. The words of Jane Goodall were still swirling in my head from the video I saw on FB last night.
"If we could just get a critical mass of us who think about the consequences of the little choices we make each day…what we buy, what we eat, what we wear, how it's made, did it harm the environment….so we collectively, as billions of human beings making the right ethical choices…that's going to move us in the right direction"
And so I rose to the higher little action. I put my empty olive oil & lotion bottles, cloth bags for some rice and other dry goods, in my backpack, got my coat on and went out into the cold to the new Precycle store in Bushwick. It was actually a beautiful winter day to walk to the subway & the ride was just 15 min, no big deal really. At Precycle, I was delighted to see an array of choices for oil, besides my organic olive oil, they have canola oil, sunflower oil, balsamic & rice wine vinegar & honey. They also have bulk Vermont Liquid Lemongrass Zen Soap  & Ecos dish soap. I'm ecstatic to have these other options for liquid soaps. When I run out of mine, I'll go fill them up @ precycle. Unfortunately they do not have bulk lotions, which I'm bummed about. I talked with the owner about the need for a refillable lotion now that Integral is closed as it was the only place I could find in New York with refillable lotion. I suggested that she carry EO lavender lotion since I know that exists in refillable dispensers with a pump. When I went up to pay, she had already looked into EO lotions. I was impressed- She's already on it!! So hopefully we will have a new place to get refillable lotion!! If you know of another place that does refillable lotion, please let me know. As I have maybe 3 more days of lotion & then I need to refill my lotion bottle!
joyous heart!
Leigh
plastic free yogini
#plasticfreeforthesea
#bethechange

---
Choose the Path
Posted on January 3rd, 2019
---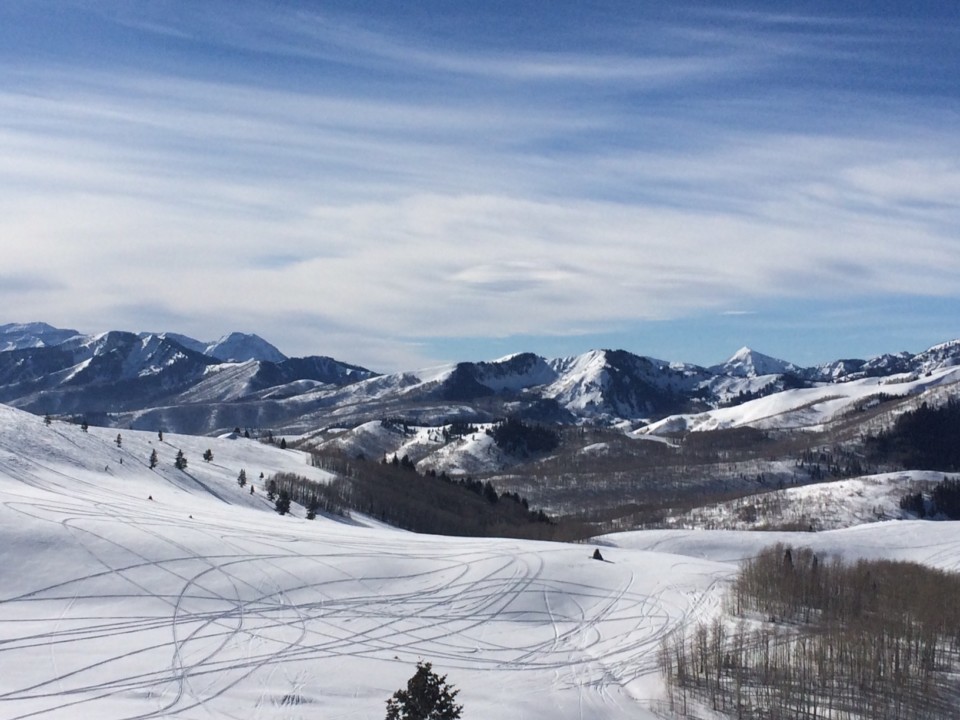 I am deeply blessed to be spending New Years with my family in Utah, skiing, snowshoeing, and having a fabulous time! I feel nourished by being immersed in the quiet presence of pine and aspen trees, majestic snow capped mountains, and immense blue skies. Being deeply absorbed in Winter stillness is the perfect condition to reflect upon my life and the new year.
Today I had an epiphany when I was skiing. For years I've been trying to ski the moguls, also known as "the bumps". After a day or so on the slopes, I feel warmed up enough to tackle the bumps hoping to make some progress on what feels to be a lifelong challenge. Today Liz, my sister in law, and I arrived on the top of "Peeler", a good mogul field with intermediate bumps-the perfect place to practice! Full of good intention, I started down the mountain and within 30 seconds I was all over the place, my legs splayed, one leg in the gully, the other on top of the mogul, the next big mogul looming way too quickly in my face, pushing me into survival mode, doing anything possible to keep from a major face plant. I managed to pull it together and by the time I got to the bottom, where the moguls were easier to handle, I was able to do a few in rhythm which gave me enough encouragement to return again up the mountain. This has been my experience for years. I keep returning up the mountain to figure out the key to "the bumps" so that I can have a smooth path in rhythm all the way down the mountain. While riding the chair lift back up the mountain, I do what I often do, watch the expert skiers as they dance through the moguls, their turns carving in tune with the mountain. I look for some pointers, some keys to the mystery. I strain my ears to listen to the ski instructors as they give tips to their "mogul" students. From the lift I can only hear snippits of their instructions, and this time I heard basically the same thing at least 4 times. "From the top of mountain, choose your line down." I've heard this instruction before but I realize that usually I only really focus on just what is just in front of me –  the first 2 or 3 moguls and I never look at the whole path down the slope. So this time when I got to the top of  mountain and looked down the sea of moguls, I chose an entire path down the mountain and with confidence pushed off. To my great surprise I actually made it halfway down the mountain without slipping dangerously out of control. It was amazing. It really worked. I skied "Peeler" all afternoon, picking up and integrating more tips and progressed until the final run when I felt in rhythm with the moguls for almost the entire run. Success! The key – "Choose your line down".
In our lives we are so preoccupied with the issues of the moment. We get tangled up with the problems of any given day, distracted and taken off course. We feel like we don't have the time to pause and look at the bigger picture. Wintertime and New Years, in particular, gives us this opportunity to take a moment and reflect, look down the mountain at the year and chart a course.
Interestingly, on New Years Eve I came across the question "What am I choosing?" and immediately started writing in my journal. I was inspired by this question instead of similar options…What am I inviting in? What am I cultivating? Many paths are possible and it is through my choice, my unique direction of thoughts and actions that my individual path unfolds. It is really all up to me, my choice, my agency. It all begins with the direction of my thoughts and actions. In the moment of choice, I release other options. I let go of attachment to other possibilities. I clear the path of distraction. The key – when I choose with clarity and visualize the future, "choose my line down", my path will fully manifest with ease.
The other question I really have been enjoying is "What am I missing?"  I invite you to do some reflection and writing on these questions to cast the trajectory of your life in 2019.
radiant spirit!
Leigh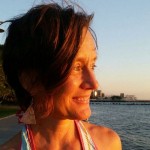 ---