SEASONAL SELF-CARE BLOG
---
SPRING GREEN SOUP
Posted on February 28th, 2018
---
Are you starting to feel a little gunky inside as the weather outside keeps shifting between Winter and Spring? Are you experiencing tight shoulders, headaches, eye issues, tight tendons, stiff necks, eczema and other skin problems. Are you getting agitated and irritable lately? These are signs that your Spring organ network, liver and gall bladder organs, are starting to get overwhelmed with the rising energy of Spring and need some loving attention.
SPRING GREEN SOUP

In these first sightings of Spring, warm sunny days sandwiched between snowy or rainy cold mucky days, my insides start waking up and dancing a little "I want to cleanse jig". But I know that it is still too early to do a juice cleanse or a full on detox. According to the wisdom of Ayurveda, you should wait until true weather to do a juice cleanse because it is too cooling and depleting for your system in the cold weather. But as we start shifting into Spring, I start gently sweeping the main pathways with a Spring Green Soup. It is warm, nourishing and starts the cleansing process in a very gentle way. I just made my first Spring Green Soup of the season! The recipe is from my dear friend, Nishanga Bliss, author of "Real food All Year". Back in the 90's she introduced me to the Chinese Medicine Seasonal food practices and we started our Seasonal Yoga workshops which blossomed all the way into my Yoga Sukhavati Seasonal Yoga Teacher Training!
The Spring Green Soup is delicious and easy to make! I chose to use Dandelion greens as part of my cluster of greens to include because of their bitterness and potency in cleansing the liver and gallbladder to help them stimulate bile production which helps break down foods and filters and detoxifes the blood. According to Chinese Medicine, Spring is the time to cleanse the liver and gall bladder, the wood element. So in went the dandelions to my Spring soup! I also added the digestive powerhouse and diuretic, Fennel to help relieve some bloating and indigestion I was experiencing. I'm feeling so much better after 2 days eating this soup & taking my purifying baths! When cleansing it is essential to offer ways for the toxins to leave your body, so I've been taking balancing, nourishing and purifying baths this week. Before I bathe, I do a simple skin brushing to get my lymphatic system in tip top shape. The skin is the largest organ in your body and a large part of our detoxification process  Check  out our Spring Practices post on purifying seaweed baths!
SPRING GREEN SOUP
Nishanga Bliss, from "Real Food All Year"
2 tablespoons ghee, lard, coconut oil, or olive oil
1 bunch spring or greenoinion, white adn green parts, coarsely chopped
1/2 cup fennel ore celery, coarsely chopped
1 quart Bone Broth, Poultry stock, or vegetable stock
2 small potatoes or turnips, diced into 1/2 cubes
1 bunch leafy greens, such as spinach, or arugula, or dandelion (include some others in addition to dandelion), coarsely chopped (about 2 cups)
1 tsp fresh or dried dill
2 tablespoons chickpea miso or white miso
juice of 1 lemon
Join me for my Spring Cleanse Flow workshop on Sunday March 25, 2018 at Sacred Sounds in Manhattan, NY or April 15 at BodyWorks in New Hampshire. Or you can download my Spring Cleanse video, and sweep out the cobwebs from home!!
joyous heart!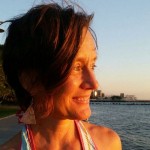 Leigh
---
Third Chakra – Manipura
Posted on November 17th, 2015
---
The third chakra, "Manipura" means "jewel city" derived from the Sanskrit, "mani" – jewel and "pura" – city. The lustrous gem center, yellow and radiant is located according to some texts in the solar plexus and others in the navel. Manipura, as the fire element, governs our digestive organs: stomach, spleen, liver, gall bladder, pancreas, and small intestines. Related to our ego identity, it gives us our sense of personal power in the world. A person with a balanced manipura chakra has good a good sense of self, is confident, intelligent, productive, focused and responsible as well as playful. They have vibrant energy and are able to take action and manifest their visions in the world with ease. Blockage in the third chakra displays as digestive disorders, low self-esteem, lack of self-discipline, poor follow through on tasks, indecisiveness, anger, hostility or a sense of victimization.
The third chakra has 10 petals on which are inscribed the Sanskrit letters, Dam, Dham, Nam, Tam, Tham, Dam, Dham, Nam, Pam, Pham.
  In the center of the lotus is Ram, the bija mantra or seed syllable for Manipura chakra. Chanting Ram as well as the sanskrit letters is very healing and opening for the related organs as well as emotional and mental aspects of Manipura.
The beautiful image of the Third Chakra is from "The Invisible Seven Psychic Lotuses" by YogaShakti Mission.
FIRE ELEMENT
Fire is the element of "Manipura", our third chakra. It is the power of transformation, luminosity, digestion, radiance, intelligence, vitality, and activity. Associated with vision, fire as light is the energy that fuels both outer sight and inner vision of comprehension and recognition. The fire element is Integral to our yoga practice in which the inner heat, activated through asana practice, burns impurities and awakens insight. The earliest term for yoga like activities is Tapas which is derived from the Sanskrit root, "Tap", meaning "to burn" or "to glow".
Our digestive fire is called Agni in Ayurveda. Located in the solar plexus, Agni governs metabolism as digestive enzymes and other metabolic processes that break down, digest, absorb, and assimilate our food. Strong agni is also important for nourishment of our tissues and immune system. This photo, taken at a retreat that I led in Guatemala, was for a very powerful Shamanic protection ceremony.
REVOLVED SPLIT-LEGGED HEADSTAND

Shine up your gem center with Parivrttaikapada Sirsasana!


Twists are very beneficial poses for the Third Chakra. Located in the solar plexus/navel area, Manipura chakra governs all of our digestive organs: stomach, spleen, liver, gall bladder, pancreas, small intestines, and large intestines as well as the kidneys. The spiraling action of twists, wrings out physical, emotional, and mental stagnation and sluggishness in our organs. As we unravel the twists, fresh oxygenated and nutrient rich blood rushes in and the stagnant blood is pushed out, offering a deep cleansing and detoxification process. Inverted twists, like Parivrttaikapada Sirsasana, provide an even more effective cleansing of accumulated metabolic waste and toxins from our system.
RUDRA MUDRA
If you're feeling insecure, unconfident, indecisive, weak & listlessness, and have digestive difficulties, you may have blockage in your third chakra. Try Practicing Rudra Mudra to awaken your solar plexus chakra, revitalize your prana, and strengthen your center.
• Touch the thumb, index and ring fingers together and extend the other fingers easefully.
• Practice 5 minutes, a few times a day.
• Affirmation: "I rest at my center and draw strength and joy from my center."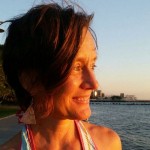 joyous heart!
Leigh
---
Spring Yang Pose
Posted on June 2nd, 2015
---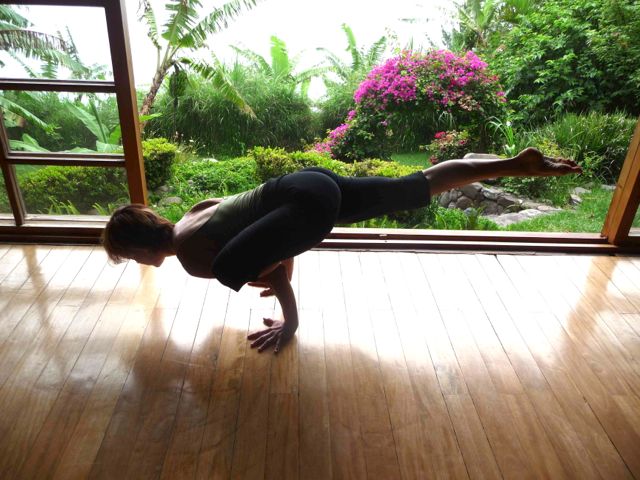 Spring Yang Pose: Eka pada Galvanasana (flying pigeon)
Leigh Evans
As a yogi, I am a deep explorer of ways to open the inner landscape of the body and mind. I love creating practices to target the areas where prana or chi is congested in the body. I know that these tight, stagnant places are actually a gold mine for awakening. They are energy pathways or meridians that are blocked. Like a river that is thwarted by a fallen tree branch, once the meridians are opened, the energy that is stuck will freely move and create a free flowing river of energy.
Transition from Spring into Summer by intensifying your yoga practice with Spring yang asanas to cleanse the liver and gall bladder organs and meridians. Release congestion and awaken chi/prana.  According to Chinese Medicine, Spring is the season of the wood element, the desire for expansion and growth reflected in the small tender seeds growing into towering trees. Movement from all living things surges to the surface to greet the face of spring.  The energy of the liver echoes the ascending, flowing, spreading nature of Spring and the wood element. The rising energy of Spring increases the liver's ascending energy and increases the flushing of accumulated toxins. Therefore in Spring, we bump into any congestion, stagnation or deficiency in the liver and gall bladder organ and meridians.
Eka pada galvanasana is one of my favorite hip opening asanas. As a person with liver congestion, I have benefited greatly from practicing it. Eka pada galvanasana is a beautiful and challenging asana which deeply opens the gall bladder meridian, running through shoulders, side body and outer hips. It simultaneously awakens energy in the liver meridian in the inner legs.
Prepare the hips for Eka pada galvanasana with supine ankle to knee and pigeon pose.
Have fun!
---