SEASONAL SELF-CARE BLOG
---
LEVEL I- EVOLVE – SPAIN
Posted on March 14th, 2023
---
Embrace the opportunity to transform by immersing yourself in Level I – EVOLVE, the first of two trainings in the 200 Hour Teacher Training at Casa Cuadrau. This training is designed to provide you with the time and techniques to deepen your yoga practice.
Level I – Evolve welcomes students who want to deepen their yoga practice and learn skills to live a balanced life in harmony with nature and their highest self.  In these twelve days, immersed in the yoga practices and the exquisite beauty of the Pyrenees, be ready to transform as an individual, develop life long friendships, and live in a supportive community learning and growing together.
This immersive vinyasa yoga training will refine your asana practice and expand your life through:
Investigation of alignment and energetic principles of asanas
Mindfulness techniques
Ayurvedic self-care practices
Meditation
Meditative hiking
Introduction to teaching
Ancient yogic wisdom from the study of ancient texts

Curriculum
Asana Lab I:
Alignment and energetic principles of foundational yoga poses
Contraindications of the postures
 Use of props to support postures and prevent injuries
Ayurveda – the Science of Life
Lifestyle of a yogi
The Joy of Self Practice
Women's practices
Introduction to Sanskrit
History of Yoga
Anatomy
Chakras & Subtle Body Anatomy
Meditation
Meditative Hiking
Pranayama
Chanting
Rituals with the Elements
Invite the sacred presence of nature into your life
Connect with the cycles of nature through personal and communal rituals
Requirements
Open to students who have been practicing yoga for a minimum of 2 years.
Level I – EVOLVE is a required course for the 200 Hour Yoga Teacher Training at Casa Cuadrau.  It counts as 100 hours towards your certificate. Upon completion of Level I, you can attend Level II – EMPOWER 100 Hour Immersion to complete your training and receive your Yoga Alliance Certification.
---
LEVEL II – EMPOWER – SPAIN
Posted on March 14th, 2023
---
Dive deeply into the practice of teaching yoga with Level II – EMPOWER. This twelve day training builds on the personal growth and yogic foundations developed in Level I, and expands your yogic journey and studies.
The second 100 hour immersion in the Yoga Teacher Training at Casa Cuadrau , this immersive training focuses on "Taking the Seat of the Teacher" and is for those who wish to become certified yoga teachers.
The heart of Level II – EMPOWER is a process that will help you move through the blockages that are limiting you. Helpful to everyone, this process will give you the courage to honor your innermost longings, taste your essence, and set your feet on your path as a yoga teacher.
Level II – EMPOWER offers you the opportunity to:
Release limiting obstacles
Find your voice as a yoga teacher
Hone your teaching skills
Polish your personal practice
Learn the craft of vinyasa rhythm and pacing
Develop the techniques to teach safe and creative beginning and open level classes.
This powerful training will help you manifest your true essence and "Take the Seat of the Teacher" with confidence and grace.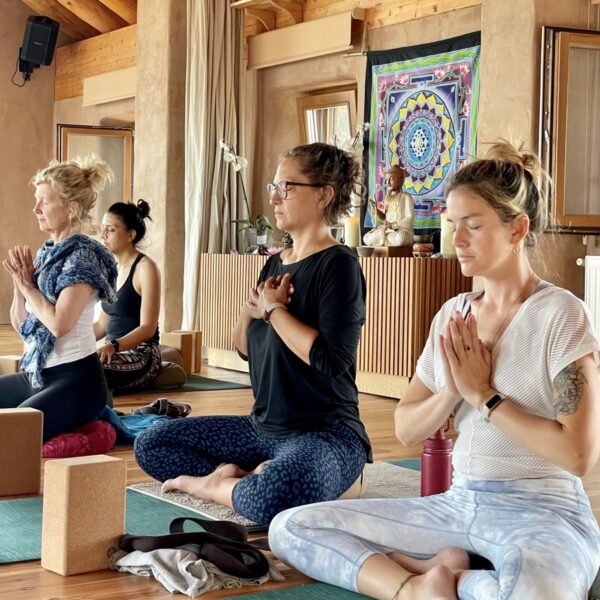 Curriculum
Asana Lab 2
Alignment and energetic principles of foundational yoga poses
Reading bodies to learn how to see which areas are collapsing or overworking and how to bring balance into the pose
How to adapt the poses to meet individual students needs
How to incorporate verbal alignment instruction in a vinyasa flow
Intelligent Creative Sequencing
Teaching practicums with personalized feedback
Hands-On Adjustments
Yoga philosophy
Finding your voice as a teacher
The Business of Yoga
Meditation
Meditative Hiking
Pranayama
Chanting
Requirements
Open to students who have completed Yoga Sukhavati Teacher Training, Level I – EVOLVE.
Level II – EMPOWER is a required course for the 200 Hour Yoga Teacher Training at Casa Cuadrau. It counts as 100 hours towards your Yoga Alliance Certification. 
Once you have successfully completed both Level I and Level II, you will receive your Yoga Sukhavati 200 Hour Yoga Teacher Training certificate and be eligible to register as a yoga teacher with Yoga Alliance (E-RYT-200).
---
WINTER RADIANCE 2021
Posted on December 22nd, 2020
---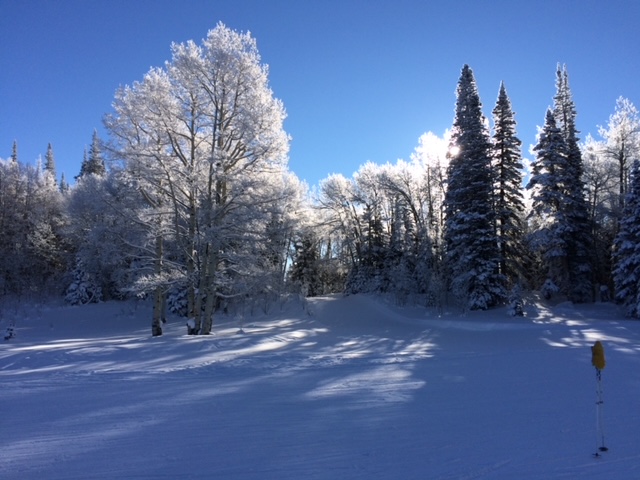 Breathe deeply and accept the jewel and the grit of this moment.– Mark Nepo
We're arriving at the doorstep of 2021 bruised and battle scarred but resilient and adaptable. No one said that evolution was going to be easy. Our entire way of being in the world is shifting and though we are getting more adept at the continually changing landscape, it's difficult. As Winter started approaching and it became apparent that things would be in various levels of "lockdown", I started feeling overwhelmed and alone. I leaned in more deeply to my home yoga practice, boosted my self-care, and picked up my accordion and started singing again. I started feeling more balanced, grounded, and connected with my deeper being. I am so grateful that I have these tools to help me reconnect, re-balance myself and access my creativity. My home practices have been my refuge, my oasis for many years.
This Winter, I would love to help you create or deepen your home practice so that you will have this refuge where you can re-connect with your deepest self and renew your being. I also want to help you really rest so that you can truly rejuvenate during these Winter months. I'd like to share with you many profoundly relaxing practices to help you sleep more deeply so that you can receive the nourishment and healing that only deep sleep can offer. In addition, since our yoga studios are closed now and we can't go on our fabulous Winter Retreat this year, I thought I'd create a way for us to gather together as a community. So I created the Winter Wellness Journey, as an opportunity for you to deepen individually as well as in the support of community so that we can flourish this winter.
This Winter Wellness Journey is offered live through weekly Zoom sessions, a monthly intensive restorative yoga workshop, as well as a facebook group where we will share our process as we deepen in our internal winter practices. All the sessions will be recorded for those who are not able to attend the session.
Winter Meridian Yoga & Yoga Nidra
Developing a Home Yoga Practice
The Art of Sleep & Rest
Join me and nourish the well of your being this Winter and cultivate your full radiance and vitality!
Happy Solstice and Happy Holidays!
Leigh
---