SEASONAL SELF-CARE BLOG
---
cooling herbal teas
Posted on July 9th, 2019
---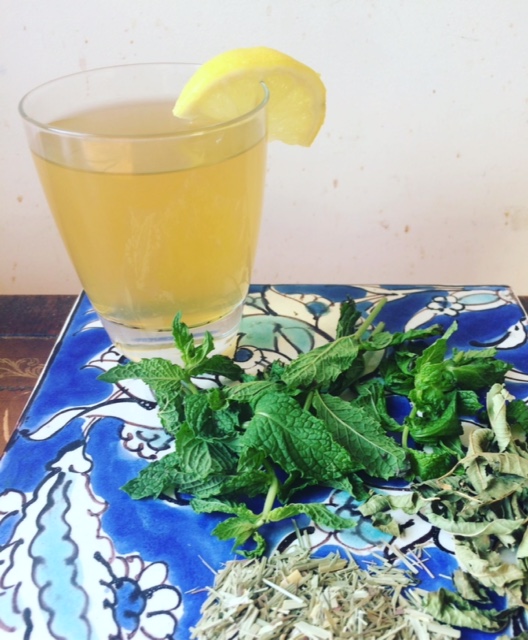 Usually in the Summer I love a good iced black tea. But all the ice teas in the store are now in plastic bottles. Since I've been really trying to be as plastic free as possible, I just can't buy them anymore. It's really frustrating! You might ask "Why don't you just make it?" But it just never tastes the same….so thanks to the inspiration of Plastic Free July and the intense humidity, I'm compelled to make an herbal cooling tea that I will love. Oh and according to Ayurveda, caffeine is heating and aggravates pitta dosha, the fire element, which is definitely true for me….(see above)!
Last week I asked my Facebook  friends for suggestions of their favorite Summer refreshing cooling drinks. Wow! so many people had great suggestions! Some I know and others like, "watermelon, beet, lemon, and mint", I had never tried before. It's been fun experimenting with the plethora of cooling herbs that help us make it through this sweltering heat: mint, lavender, lemongrass, lemon verbena, hibiscus, rose petals, roasted barley, chamomile, nettles, comfrey, dandelion, fennel, jasmine, kukicha, lemon balm, passion flower & other Summer favs – lemon, lime, and cucumber.
According to Ayurveda, Summer is the season when Pitta Dosha , the fire element can become agitated. You might be noticing some of the signs of Pitta out of balance as the heat kicks up. Are you irritable, cranky, or impatient? Is your skin itchy? Do you have hives, heat rash or acne? Are you stressed out, feeling obsessive, or judgemental? We can effectively cool our system and stay hydrated with refreshing herbal teas so that we can fully enjoy the joyous expression of the Summer's radiance!
I've been experimenting and love the pitta cooling mixture of  lemongrass, lemon verbena, and fresh mint tea with a touch of lemon and honey. It's incredibly refreshing, and makes me feel very relaxed. In fact, I'm sipping on some right now! Lemon verbena soothes inflammation, aids digestion, and offers calming qualities which also makes it a great sleep aid for those suffering from insomnia. Lemongrass detoxifies the body, reduces inflammation, fevers, infections, and swelling, and offers the bitter flavor and mint, our favorite Summer cooling herb, offers the sweet flavor both which calm pitta dosha. Lemons detoxify pitta in balance, though due to their sour flavor may stimulate aggravated pitta. Honey is heating to pitta, so use it sparingly. Enjoy!
Today I went to pick up some hibiscus and rose petals at Flower Power in the East Village. I've been trying my best to be plastic free and they have an incredible selection of loose, organic herbs and spices. I brought my own refillable cotton bags with me, but they also have small paper bags. It's #plasticfreejuly and small daily plastic free choices make a big difference in the landfill & the sea. AND small daily dosha balancing choices have a huge impact on our well being. So today I made the choice to purchase herbs for tea that would cool my system instead of agitate it and I chose to support a business that offers herbs without any plastic footprint. Every little bit helps us find balance within ourselves and the planet.
joyous heart!
Leigh
---
Sing to your hearts content
Posted on June 16th, 2015
---
Open up your voice and sing from your heart to infuse your spirit with the joyful abundance of Summer.
I took this picture when I was in Thailand in 2014 studying Thai massage with master  teacher, Pichest Boonthumee. My favorite thing to do when traveling in Asia is to get up early and walk through the open air markets. The streets and markets are buzzing with life and vitality. Our first day studying thai massage with Pichet, we were to arrive at 9am with offerings- flowers, incense, and fruit. So I got up early and went to the market. I was mesmorized by the intricate beautiful flower offerings that were on display. People of all walks of life were purchasing them on their way to work. The daily flower art offerings hung everywhere, on the mirror in the rickshaws, on the bow of the boats, in the restaurants, on the spirit houses and temples. Gratitude in the form of these beautiful ephemeral works of flower art were lusciously everywhere. They make me so happy.
As the Summer solstice is here, I share with you the beauty of these flower offerings. Our gardens are blooming and the bounty of the Summer is shining everywhere. According to Chinese Medicine, Summer is the time to nourish the heart and small intestine. When talking about the heart, Chinese medicine includes the physical heart as well as the mind or consciousness of our being. The heart circulates the blood through the body, houses the spirit, and is responsible for maintaining awareness. The heart-mind is said to sprout at the tongue. Speech and song emerge from the heart center as fragrant blossoms emerging from the stem and root. I am reminded of our phrase in English "Sing to your heart's content".
People with a balanced heart-mind shine not only through their generous, joyous, loving presence but also through their clarity of speech and thought. They are good communicators, highly articulate and aware. For most of us, unfortunately, our heart-mind's are scattered and confused. Constant media stimulus and the fragmentation of our modern lives leaves us with frighteningly short attention spans, and a constant stream of agitated, anxious thoughts whirling in our mind. Our thoughts become diffused, disjointed, and our speech confused or rambling. These are signs that our heart-mind is out of balance.
To strengthen the heart-mind and gather your scattered thoughts, sing and explore voice centered practices this Summer. It is the perfect time to delve into the beautiful Indian devotional chanting practices of kirtan, and mantra. Chanting in the sacred language of Sanskrit helps focus your mind and invites forward your innate state of spaciousness, clarity and pure awareness. Chanting is like a vibrational form of flower offerings-strings of sacred sound garlands offered from the heart.
"The word mantra is derived from the words manama ('thinking') and trana ( 'liberation'). In other words, a mantra is a potent form of thought, an instrument of conscious intention.
Georg Feuerstein, "The Yoga Tradition"

'Because the mantra is an expression of a more evolved consciousness, it offers a unique link with that higher level. For this reason, it not only makes the path to higher consciousness clearer by replacing interfering thoughts, its gradual incorporation pulls consciousness toward that state.'"
Swami Rama, "Yoga & Psychotherapy"
Join us for joyful sonic explorations this Summer through our Art of Sound Module!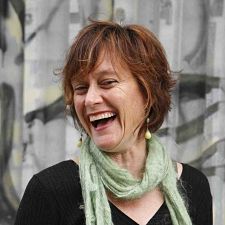 Enjoy!
Leigh
---