SEASONAL SELF-CARE BLOG
---
Q & A with Yoga Sukhavati Graduate Kelly Voegelin
Posted on June 15th, 2015
---
Kelly Voegelin shares how she found yoga and how her training with Yoga Sukavati continues to inspire her practice and her teaching.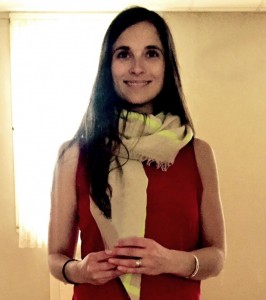 When did you start practicing yoga? How did you find yoga?
I found yoga in 2006 while living abroad in Buenos Aires. I was in search of something that would better my life on a physical & emotional level. I was very fortunate to begin with private Iyengar lessons.
How has the practice changed your life?
I am able to connect with my own needs, energies and emotions in a way that feels nourishing & genuine. Yoga allows me to do that on a physical & mental level.
What were you doing before you took your training?
I was working at Christie's Auction House as an art handler.
Why did you decide to take a 200-hr teacher training?
I was ready to commit to my practice in the fullest way possible and ready to change my life.
What stands out the most about your experience from your teacher training?
How grateful I feel about having done it. It truly changed my attitude and approach toward how I live.
How has the Yoga Sukhavati training transformed your life? What are you doing now?
Sukhavati provided many ways to approach ones practice and teaching…As a life practice. How my yoga practice is informed by Ayurveda & Chinese medicine never ceases to inspire me. I can design my practice or what I plan to teach around so many things: the moon or my own monthly cycle, the seasons or weather or external changes, certain organs or the meridian lines connected to balancing them, intentions and meditations and mudras…
I am now teaching group classes, private lessons and after school art a few days a week to young children.
How was it to work with Leigh?
Leigh is an extremely knowledgeable and reliable teacher. She inspires me to continue my curiosities and exploration of asana and the yoga sukhavati curriculum as a whole. Her classes are fun, informative and infused with information.
What advice would you give to someone who was on the fence about doing a 200-hour teacher training?
Do it. You'll never regret it. It's an act of self care and life change. And you'll meet wonderful, supportive friends and teachers along the way.
What stood out to you about the Yoga Sukhavati 300-hour Advanced training?
Practicing with seasonal change and the organs we need to nourish during those shifts has really resonated with me.
What do you like most about teaching yoga?
I'm able to offer a practice of self care and sustainability to those who show up to it. It not only gives me pleasure to serve my community but I always feel so happy at the beginning and end of each class.
You can find Kelly teaching at Greenhouse Holistic in Williamsburg, Loom Yoga Center in Bushwick and Usha Veda in Greenpoint. Visit her website for more!
---