About Leigh Evans
Leigh Evans, (500 E-RYT) is a yoga teacher based in Brooklyn, New York. Leigh has over 25 years of experience teaching intuitive, creative, alignment based vinyasa yoga classes. Leigh's seasoned approach to the yoga practice can transform any student who craves insight on the body and the human experience. From the study of Yoga and Ayurveda in India to Thai Massage in Chiang Mai, Leigh's breadth of knowledge gives her the tools to teach practical applications that can change students' everyday lives. Leigh is a go-to resource for Ayurvedic Yoga, seasonal wellness practices, sleep yoga, and women's yoga practices, and anyone interested in her expertise can benefit from her teaching. Through an integration of vinyasa yang and restorative yin practice, Leigh's classes enhance the flow of prana in the body by nourishing specific energy channels and organs. She encourages the development of mindfulness through the practice, inviting you to witness the shifting sensations of the body and attune to the inner unfolding of each asana.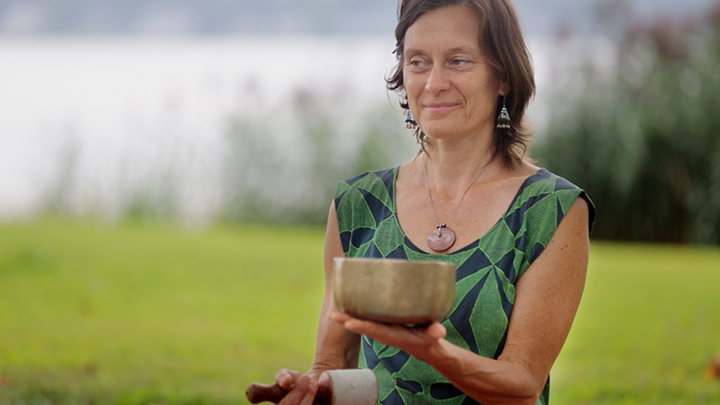 Leigh is the founder and director of the Yoga Sukhavati Teacher Training Programs. Yoga Sukhavati's Seasonal vinyasa practices are infused with Ayurveda, Buddhism, and Women's practices. Leigh has had the pleasure of training over 200 of New York's finest Yoga teachers in the past 5 years. It brings her great joy to guide and witness the transformation of her students as they develop the skills and awaken their voice and presence through taking their seat as the teacher. Leigh has dedicated her life to studying, practicing and passing on the living wisdom of yoga, culminating in the Yoga Sukhavti teacher training programs.
 She is grateful for the guidance of her teachers, Dharma Mitra, Ramanand Patel, Rodney Yee, Sarah Powers, Lisa Walford, Barbara Benagh, Mary Paffard, Dr. Vasant Lad, and Adjan Pichet Bontumee.
Leigh is known for her free spirit, humor, precision, and continual exploration. She teaches retreats, teacher trainings, and workshops nationally and internationally.