TESTIMONIALS
gratitude
Leigh Evans

om
shanti


This training prepared me very well to teach publicly in studios, as well as create a regular home practice. I learned about the interconnection of the mind, body, and breath, as well as being in the present moment. This training transformed my life as it taught me a tool which I will carry with me throughout my lifetime.
– graduate 200 HR
"I feel my understanding of health, spirit, well being and traditional practices has been greatly enhanced. I feel like my yoga and self care practices are becoming more integrated, deep and personal."
"I continue to be inspired and invigorated by the training and find I can apply it not just to my classes and personal practice, but also can help friends and family with the knowledge as well."
– graduate 300 HR
This training completely changed the way I practice, teach and embody yoga. It effected my life in the most positive way and I feel I am still learning from and researching all that we dove into.
– graduate 300 HR
Studying with Leigh Evans in the Yoga Sukhavati Teacher Training has taken my yoga practice & teaching to new depths. I have a wealth of knowledge from which to teach, continue to study, & put into my own practices & routines. Each day, month, & season provides us an opportunity to align & balance our internal energies with the rhythms of the world around us.  A Yoga practice can be aligned in this way as a tool to nourish ourselves throughout daily, emotional, & life long changes. My practice & classes are not surface level; they have become sustainable lifestyle practices. Each class I teach has an intention behind it pulling from all that I've learned through my studies with Yoga Sukhavati- be it philosophy & Dharma, Ayurveda, Chinese Medicine, or Seasonal Asana. This training is a life long gift for which I have extreme gratitude.
– Kelley V., graduate 300 HR

As I come to the end of my formal studies (200 hour and 500 hour yoga teacher training) with Leigh Evans and Summer Quashie, I'm just beginning to realize how deeply I have been influenced by their teacher trainings. They both have been the kind catalysts for change, growth and refinement of myself as a person and an instructor. They have selflessly shared with me knowledge and personal experience of yoga, ayurveda, meditation, chanting, nutrition, chinese medicine and philosophy, among other practices, for the enhancement of my well being and my spiritual development. I have become a more finely tuned, perceptive, sensitive, stable, genuine person with a greatly stimulated and continually expanding interest in healing practices for myself and others and the tools and support to do so. My teaching has developed organically from and is integrated with my experience studying with them. They have been successful in their attempt to "Nourish, Inspire, and Challenge", as is their philosophy. I am eternally grateful to Summer and Leigh for their generosity and efforts in organizing these trainings."
– Seth L, graduate 300 HR

"Honored, humbled, grateful – just a few words to describe how I am feeling tonight as I reflect back on my past year of training with Yoga Sukhavati. To be part of such a beautiful community led by Leigh Evans and Summer Quashie has been a deeply healing and incredibly enriching experience. I am not only a better teacher from their tutelage, but a better human. The holistic approach they teach encourages individualized care and wellness for each student, enabling me as a teacher to truly heal. If you are considering a 200 or 300 hour teacher training I cannot recommend this program highly enough! "
– Natalie R., graduate 300 HR

"Yoga Sukhavati is simultaneously a loving and nurturing community, a deeply healing spiritual experience and a holistic and multi-faceted training. I came out of it not only with new knowledge and understanding of myself, my students, and how Yoga, Ayurveda, Tibetan Buddhism, and Chinese medicine can help us heal ourselves, but also with an amazing support network of fellow yoga teachers, healers, and spiritual seekers."
– graduate 300 HR
Leigh Evans is a great teacher and I strongly recommend everyone to take one of her trainings or workshops.
– Federica B., graduate 300 HR
"Leigh Evans has changed my life.  She has taught me to breathe deeply, to stand correctly and to relax through meditation. She has a calm and focused manner.  She is an inspiration and  offers great encouragement which makes one want to grow, learn and change. Anyone lucky enough to work with her will see how much they can blossom and become – – how much body awareness they will gain — under the gentle guidance of a profound person and expert."-Jennifer Lyons
I have been a yoga student in NYC for several years and Leigh is the first teacher that I have had who has been able to precisely target areas in my body that require more awareness from me during my yoga practice. With each lesson, Leigh, gives me more and more tools to continue to correct my bad habits that have formed over the years and create space and stability in each pose. Tools that I can take with me to other yoga classes and build into my home practice. Leigh is an incredibly dynamic teacher. She incorporates chanting and music into our practice and she has a wealth of knowledge of the Chinese meridian system as it connects to how we use our bodies. Leigh, is truly a healer! – Margot P.
Leigh has gone above and beyond to help me on my terms and with my goals since we started working together in March. She has coordinated with my physical therapist to make sure everything we do is best for my body. I have never gone through a yoga class feeling this great. I used to think pain was gain, but Leigh is teaching me better habits. I am already feeling stronger in these few months, and achieving new feats I hadn't imagined for myself. I learn something new from Leigh every time we meet. Her positive attitude makes me feel like I will continue to improve and that all my wishes for better strength, flexibility, breath capacity, and pain control are within reach. – Hannah S.
"My private sessions with Leigh opened within me a whole new level of awareness–physically, emotionally, and intellectually. Her guidance helped me to identify daily habits that were negatively affecting my body, as well as access areas of my body I had ignored for years. We developed a varied and challenging home practice together, and I started to sense my body growing stronger, my focus within each pose growing deeper. I even felt the benefits transferring into my artistic work as a violinist. Always encouraging, Leigh is the rare teacher who shares her extensive knowledge of the body and yoga with sincere compassion and patience." –Ann L.
"Leigh is the most synergistic of yoga teachers. She combines her deep experience of various styles with her extensive dance training to free  the body of its patterns and cultivate a true awareness of ones Self. She is a master of technique and alignment while maintaining the ability to create flow and warmth. She has taken my stagnating 9 year practice and deepened it beyond my expectations helping me find ease, space and breath."–Mae F.
Leigh is a very talented and skilled yoga instructor. I went in with back pain and tension in my upper back. Working with Leigh helped alleviate that tension & pain, open up my back/chest, and help my posture. I highly recommend her for yoga. – Lauren C.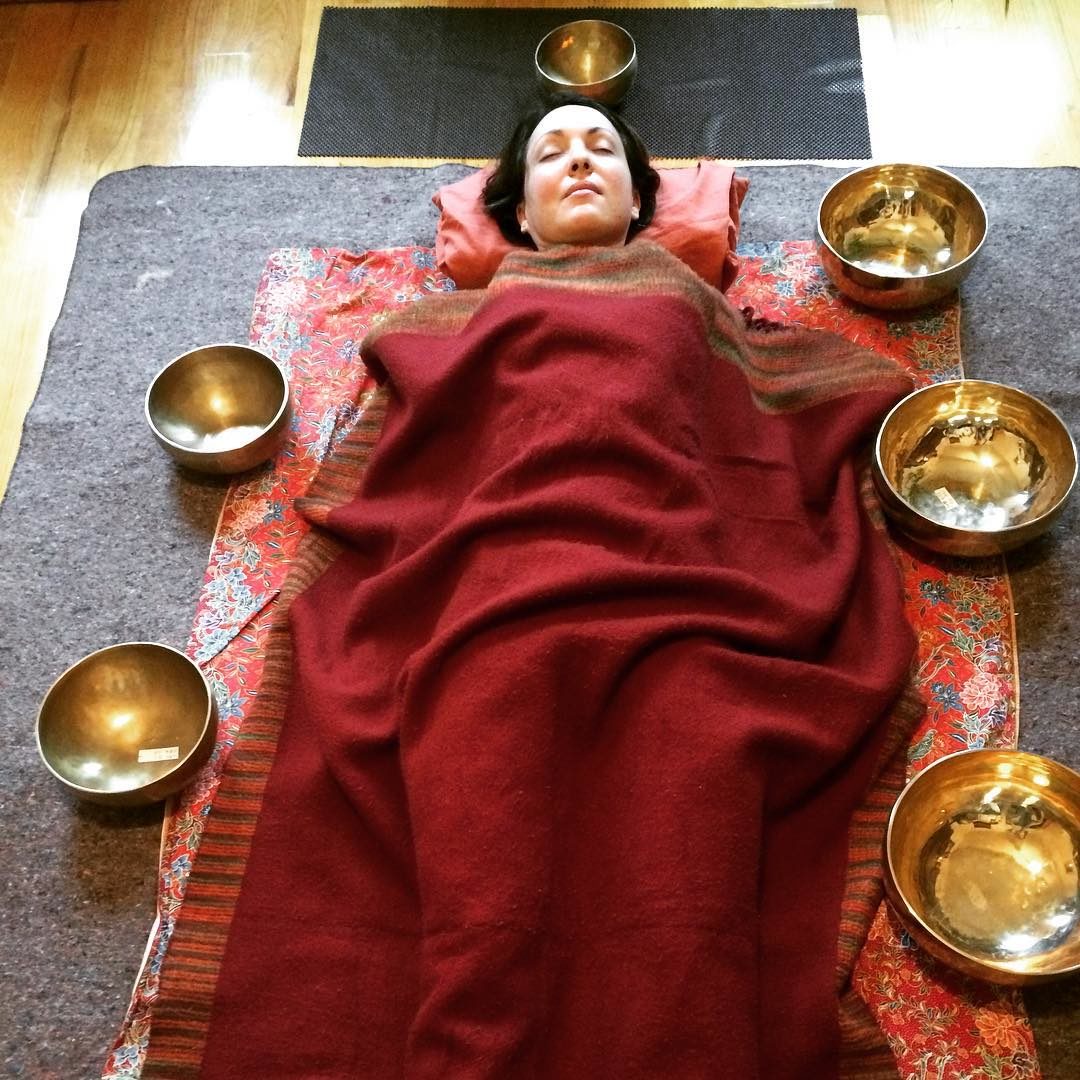 The Sound Healing session with Leigh Evans was a unique and lovely experience. This practice was also integrated with Thai massage. It was lovely in that I seemed to transcend into deep relaxation much quicker than traditional massage, which set me into a more receptive mode to allow the sonic vibrations to do their healing. And it was unique in that this modality of massage released tension in parts of muscles that don't get attention or relief through traditional massage. Leigh used the gravity and weight of my own body to address tension that rested deep in my shoulders, hips, and even a sciatic nerve that became agitated two years ago — gone!
Upon leaving the session, the sense of calmness I experienced during the session remained with me the rest of the day, well into the next day. I'm not exactly sure which channels became unblocked, or sure I can give you the proper methodical explanation of how it all works; but I know that I experienced a positive shift in my approach to simply going about my business in the days that followed. – Susanna D.
I recently had a Sound Bath Healing Session with Leigh where we focused the intention on "Clarity & Being clear."  The session was more abundant than I had expected. I thought that I was just getting a Sound Bath, but the session I received, was so much more!  
The session included a Thai Massage warm-up that was comforting & soothing.  After that Leigh went in with her specialized Tuning Forks & worked with some specific meridians throughout my body. In conclusion, Leigh played her Singing Bowls all around my being.  The sound, the vibration & the opening was gentle & deep. Leigh's Sound Bath Healing was a nourishing, supportive & very powerful experience.
A Sound Bath Healing with Leigh is a wonderful gentle way to raise your vibration!!!  Leigh's skilled use of her Tuning Forks is a MUST experience for anyone looking to create a deeper connection & understanding of their own Energetic Body.  The awareness that I gained from my session with Leigh will greatly add to my awareness within my own daily Meditation & Yoga practice. – Conni M.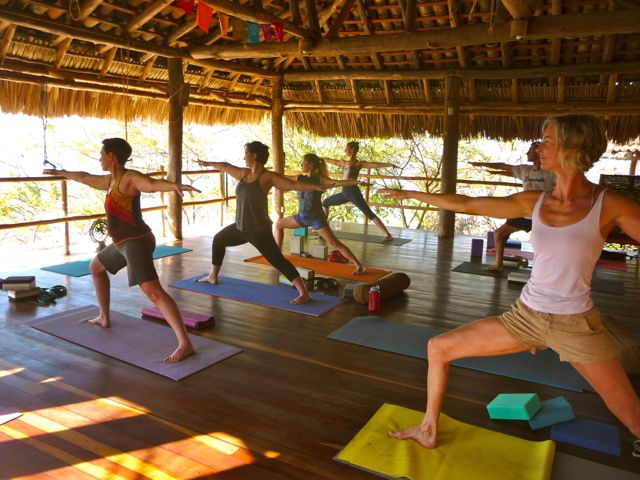 Leigh Evans is an exceptional, knowledgeable and tireless teacher…she is sensitive to individual needs and levels of practice…I have followed Leigh from her studio in Brooklyn, to the exotic and diverse places she plans her retreats…I have always had amazing experiences and memories. – Barbara W
I have traveled the world to attend classes and retreats with Leigh. She is one of the most amazing yoga teachers I have met. Always friendly, she has a talent for giving you just what you need, whether that's a physical or spiritual adjustment. When I'm in New York I always look her up and get to as many classes as I can, no matter where I'm staying.I wish I could get to more of her retreats… They are a real treat for the body and soul. – Carolyn S.
I attended Leigh's Thailand retreat in 2014. It was my first retreat experience and proved to be major success. After waking in my private floating bungalow to an orchestra of cicadas and gibbons, I'd join Leigh and the group for our first yoga practice of the day, which would usually start with chanting. As a beginner, I always felt supported and invigorated. I really trusted her to lead me with care but also to correct and challenge me. Leigh is an amazing teacher.
There were several days where we took amazing group excursions; out on the long bamboo boats to find other islands, picnics and impromptu swimming, hiking through the jungle into caves where we would see exotic wildlife or chant.  It was such a nourishing experience. Everytime I opened my eyes, more magic was happening. My highest recommendations and best of wishes! – Audry Celeste
"Leigh is one of the most generous and inspiring yoga teachers from whom I've ever had the pleasure of learning. Her retreat in Yelapa was fun, challenging, enlightening, refreshing, and I'm looking forward to going again! I met an amazing group of people that I truly feel are lifelong friends. The Yelapa retreat was one of the highlights of my entire year."–Julie T.
"Going on a yoga retreat with Leigh is the ultimate experience. You get to practice yoga in a beautiful place with beautiful people and come home with new friends, an open heart, and a deeper understanding of yourself. (Not to mention a badass tan!)" – Melanie C.
"I've been to several of Leigh's retreats. There always in a sublime setting , well organized, with great food and great yoga, rejuvenating for both body and spirit. Leigh is a gifted and generous teacher and gathers great people around her wherever she goes." Vera L.