AWAKENED HEART RETREAT: SPAIN -
yoga & nature immersion
June 11-18, 2022
Invite celebration and the radiant spirit of Summer into your being! Awaken the natural luminosity of your heart and let your body soar in song and light atop the magnificent peaks of the Pyrenees! Join us for an incredible  journey to Northern Spain where we will practice yoga and hike in the extraordinary mountains of Aragon, Spain.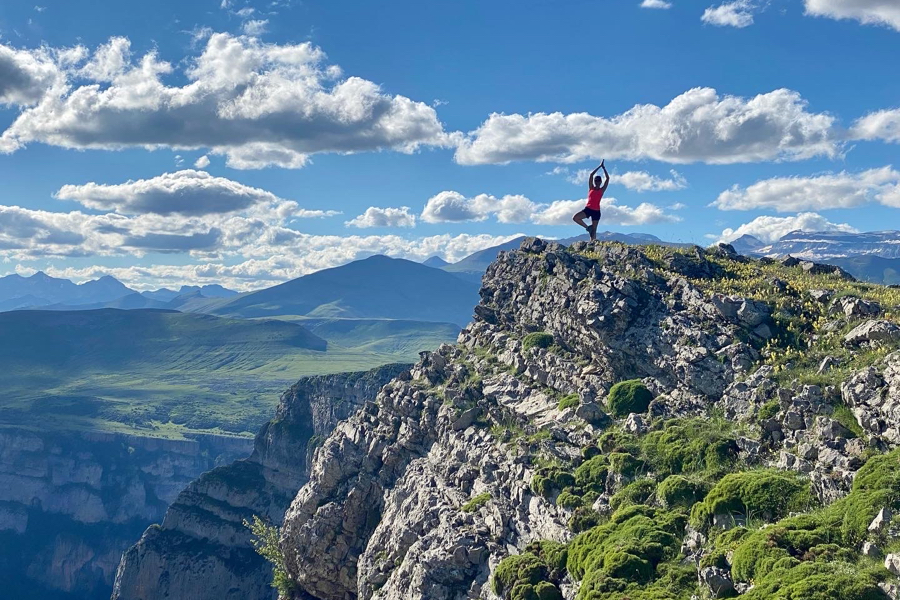 Summer is associated with the fire element which rules the heart and awakens expansive energy and bliss. Immerse yourself in a week of yoga, meditation, and hiking to awaken the joyous heart and balance the Fire element, Pitta Dosha. Nourish your body and mind with yoga sequences designed to release tension, stress, and habitual holding patterns in the shoulders, chest, and body so that you can open the pathway to the joyful and loving nature of the awakened heart. Infused with the wisdom of Chinese Medicine Meridians and Ayurveda self-care practices, this week-long yoga immersion will unveil the lightness of being that is in harmony with the spirit of Summer abundance.
THE RETREAT CENTER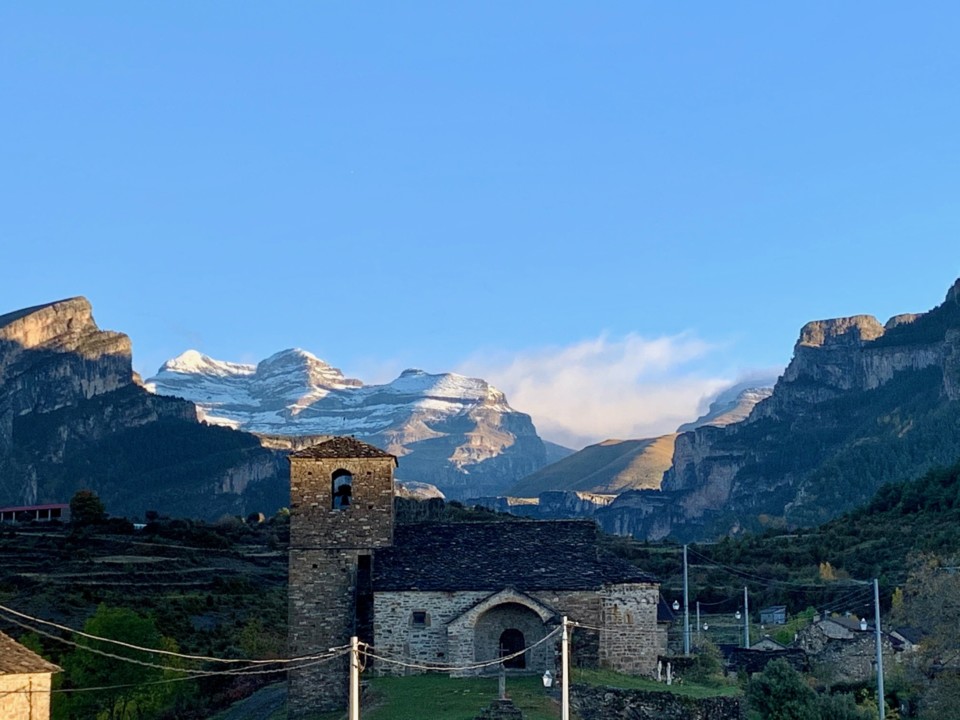 Perched in a sweet valley in the midst the magnificence of the Spanish Pyrenees, Casa Cuadrau is an extraordinary place to retreat from the busyness of your life and renew your being. Imagine after an invigorating and blissful morning yoga class rolling out of your savasana and looking out the window to see this magnificent view of the sun rising over the Pyrenees and the sweet village of Vió.
Casa Cuadrau is located in a majestic corner of the Ordesa and Monte Perdido National Park, within the Sobrarb-Pyrenees Geopark. The environment is one of the most biodiverse in Europe. Located on an elevated and open valley surrounded by beautiful mountains wherever you look, it is found in a very small remote village called Vió. Embraced by the stillness and exquisite beauty of this oasis, we will immerse ourselves in the practices of yoga, meditation, and hiking.
The yoga studio at Casa Cuadrau with stunning views of the mountains on all sides is an incredible oasis of calm in which to reconnect with yourself and rejuvenate your body and mind.
RETREAT INCLUDES
2 yoga classes a day: dynamic asana practice in the morning, slower more restorative practice in the afternoon

evening practices including yoga nidra, meditation, chanting

2 guided meditative hikes

1 guided half day excursion in Ordesa and Monte Perdido National Park

3 vegetarian meals per day
MEET YOUR TEACHER: LEIGH EVANS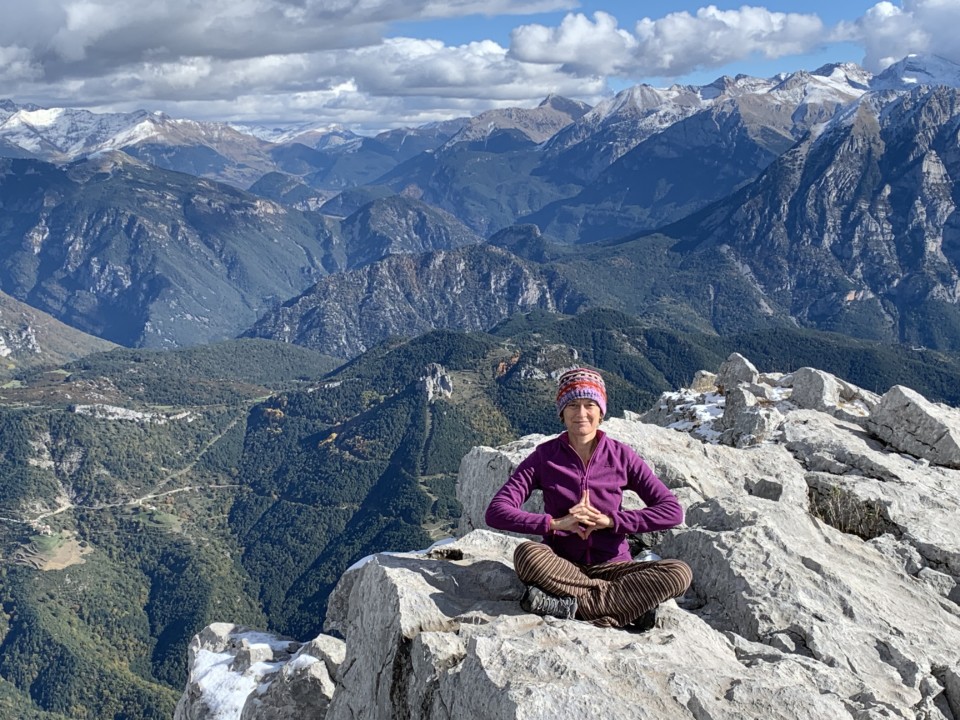 Passionate yogini and explorer, Leigh Evans is a senior yoga teacher based in Brookyn, New York. For travelers seeking getaways that engage all the senses, encourage growth… and that are simply beautiful, relaxing and unique, Leigh has it covered. For over a decade, Leigh has led hundreds of people on experiences of a lifetime: from sweat lodges in Mexico to asana among the monkeys in Costa Rica, giraffes on safari in Africa to jungle vinyasa in Thailand!
Leigh Evans (500 E-RYT) is the founder and director of Yoga Sukhavati Teacher Training Programs. Through decades of teaching thousands of students, Leigh's seasoned approach to the practice can transform any student who craves insight on the body and the human experience. Whatever your age or skill level, Leigh provides personal instruction, expert anatomical alignment, and Ayurvedic wisdom of how to bring balance into your daily life. Leigh is a go-to resource for seasonal yoga and wellness practices, Ayurveda yoga, sleep yoga, and women's yoga practices. From the study of yoga and Ayurveda in India, to thai massage in Chiang Mai, to Acutonics – sound healing infused with Chinese Medicine meridian theory, Leigh's breadth of knowledge gives her the tools to teach practical applications that can change student's everyday lives. Leigh teaches retreats, teacher trainings, workshops, and festivals nationally and internationally.
TRANSPORTATION
Casa Cuadrau Retreat House is located in Vio, a village at the doors of the Ordesa & Monte Perdido National park, Spanish Pyrenees. It is about a 40 minute drive from Ainsa (Huesca). The closest city to fly into is Barcelona.
Transportation is not included in the price of the Retreat. There are several options available.
Rent a car. This is a great option because I'm sure that you'll want to spend extra time exploring the area before or after the retreat!
Direct Shuttle from Barcelona. This cost of the taxi shuttle will be divided between the participants. A maximum of 8 people can ride in the shuttle.
Bus
Note that the taxi shuttle from Barcelona and bus will have specific departure times that you'll need to figure in when booking your flight. Please contact Leigh for more information on the direct shuttle or bus.
leitzu@earthlink.net
---
Registration Details:
PRICES

Reserve your space with a $350 non-refundable deposit. When placing your deposit, please indicate your accommodation preference. Balance due as noted in pricing options.

Main House
Dorms with shared bathroom

$1,695 – due in full by 5/15/22
single and double rooms – Sold out
Payment
Through Zelle or Venmo with leitzu@earthlink.net
Contact: leitzu@earthlink.net
YOGA SUKHAVATI CANCELLATION POLICY
Refunds, (less your non-refundable deposit), are available up to two months prior to start date of the teacher training, retreat, immersion or workshop. One month prior to start of the teacher training, module, retreat, immersion or workshop your payment can be issued as credit towards a future teacher training, retreat, immersion or workshop where space is available. For cancellations less than one month prior to start date, all fees are non-refundable and not transferable.