Adjustment Lab for Teachers
Backbends
with Leigh Evans

Sat. Sept. 17
3-6pm

Learn to adjust with confidence and your students will thank you!
Yoga Teachers – Bring your students to the next level of practice with expert adjustments!  Develop skills in how to see bodies, and techniques to effectively help deepen your students experience through healing touch and hands on adjustments. This session in the Adjustment Lab series will focus focus on Backbend adjustments. With Leigh's guidance, you will learn and practice the asana adjustments that will be most beneficial for each student to address their root problems and create new healthy alignment patterns in backbends. In addition, you will learn specific poses that open tight areas in the body in preparation for a juicy, deep, and safe backbend practice.
One of the most important skills for a yoga teacher is to be able to see what is happening in your students bodies and guide them into healthy balanced alignment. In this workshop, you will learn to see bodies as well as refine your adjustment skills. Working in a laboratory like setting, stand side by side with Leigh and together look and to learn to see the areas of compromise or over exertion in the students bodies and minds. Learn to penetrate with vision and then your hands.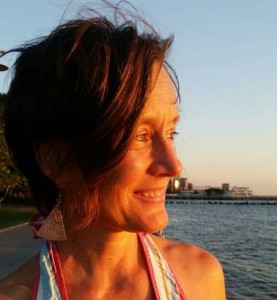 STUDYING WITH LEIGH
Leigh is "a teacher's teacher" providing high-level instruction to a generation of leaders.
With more than 25 years experience teaching creative, intuitive, alignment based vinyasa classes, Leigh Evans offers her skillful guidance to help deepen your connection with your students.  Leigh has brought hundreds of budding teachers and enthusiasts to the next level of their experience, and the transformations have been remarkable.
$40 Early Bird
$45 after Sept 7th
1087 Flushing Ave, Brooklyn, NY