AWAKENED HEART YOGA & GONG RETREAT- SWEDEN -
yoga & sound healing
June 14 - 15, 2019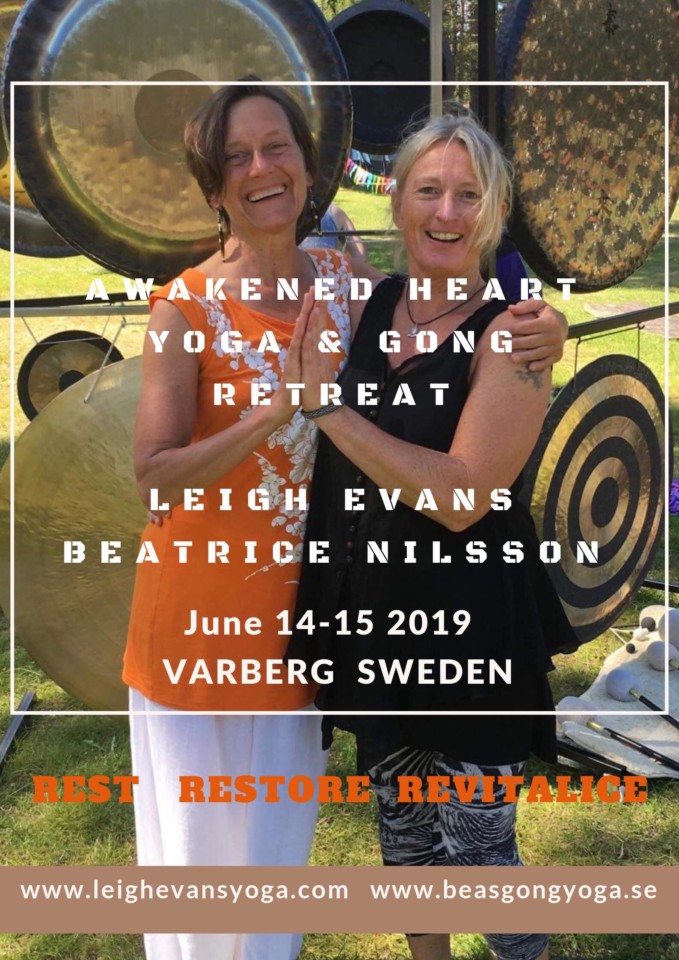 Enjoy a cooler, more peaceful state of being this Summer by immersing yourself in a weekend of deeply nourishing sound healing and yoga practices to awaken the radiant heart and balance the Fire element, Pitta Dosha. Nourish your body and mind with yoga sequences designed with the wisdom of Chinese Medicine Meridians and infused with cooling Ayurveda self-care practices to help you chill out and bring balance to your being and life.
FULL WEEKEND
FRI JUNE 14
18-19.30h RESTORATIVE YOGA + GONG RELAX with Leigh + Beatrice
Dinner time
21-22h chanting, meditation, yoga nidra
22.30-…….Gongsleep with Beatrice
SAT JUNE 15
05-06 – Wake up Gong with Beatrice
06-07 – Magical silence
Breakfast
9–11 – AWAKENED HEART FLOW with Leigh + Gong Beatrice
11-13 – Time to relax Eat, walking, swimming….
13:30-15.30 –  HIP LOVE  with Leigh & Gong with Beatrice
(If the weather is nice we might be outdoors in this class)
Workshop descriptions
RESTORATIVE YOGA & GONG RELAX
Enjoy a delicious restorative yoga practice while being immersed in the powerful healing vibrations of sound. Designed to relax and rejuvenate your body and mind, this sound body experience helps you release stress and tension, improves sleep, calms your nervous system, and harmonizes your subtle energy body.
AWAKENED HEART FLOW
yoga, mantra, meditation
Awaken the natural radiance of your heart this Summer and let your body soar in song and light. We begin our morning yoga practice with chants to open Anahata chakra, the heart chakra, invoking the divine within us to radiate through our entire being. Our asana practice, designed to release tension, stress, and habitual holding patterns in the shoulders and chest, opens the pathway to the joyful and loving nature of the awakened heart. The wisdom of Chinese Medicine encourages us to nourish our heart and small intestine in the Summer months when these organs & meridians are particularly affected. The heart-mind is said to sprout at the tongue. One of the most powerful ways to nurture and calm the heart-mind is through the power of sound. Mantra practice is a potent sonic healing. The Sanskrit word mantra is derived from "manas"-mind and "tra"- tool. It is a tool for the mind, one of the most powerful means to calm the mind. They are often referred to as mind protection.

HIP LOVE
restorative hip opening to chill out!
Stay cool this Summer with a delicious restorative hip opening yoga practice to balance pitta dosha (fire element)! Designed to slowly and therapeutically open the meridians affecting your hips, this sequence dissolves the congestion and stuckness in your energy channels which might be creating extra heat in your organs leading to agitation in the mind. As we open the hips, we invite a cooler, more peaceful state of mind and an ease in our seated meditation posture. With our new freedom in our hips, we can meditate in yogic bliss while receiving deep nourishment and grounding.
Options
FULL WEEKEND RETREAT
Fri June 14, 18h – Sat June 15, 15:30h

Replenish and revitalize your entire being with a weekend of restorative and heart opening yoga, sound meditation, and immersive Gong experience.
Breakfast and lunch included. Please bring extra padding (air mattress or the equivalent) for sleeping.
Price – 1350 sv. KR

GONG NIGHT OF YOGA & SOUND MEDITATION
Fri June 14, 18h – Sat June 15, 8:30h (after breakfast)
Enjoy a deeply nourishing evening of restorative yoga and sound healing. Let the gong lull you to sleep and sweetly wake you up in the morning! Please bring extra padding (air mattress or the equivalent) for sleeping. Breakfast included.

Price – 750 sv. KR
DAY OF HEART & HIP OPENING
Sat June 15, 18h – Sat June 15, 9am – 15:30h (lunch included)
Enjoy a full day of yoga workshops opening your hips and heart to balance the fire element, Pitta Dosha, with chanting and deeply relaxing gong experiences. Lunch included
Price – 950 sv. KR
contact Beatrice Nilsson – info@beasgongyoga.se
---
Registration Details: