LEVEL II - EMPOWER - SPAIN -
Taking the seat of the teacher
Sept 26-Oct 7, 2023
12 day immersion
Dive deeply into the practice of teaching yoga with Level II – EMPOWER. This twelve day training builds on the personal growth and yogic foundations developed in Level I, and expands your yogic journey and studies.
The second 100 hour immersion in the Yoga Teacher Training at Casa Cuadrau , this immersive training focuses on "Taking the Seat of the Teacher" and is for those who wish to become certified yoga teachers.
The heart of Level II – EMPOWER is a process that will help you move through the blockages that are limiting you. Helpful to everyone, this process will give you the courage to honor your innermost longings, taste your essence, and set your feet on your path as a yoga teacher.
Level II – EMPOWER offers you the opportunity to:
Release limiting obstacles
Find your voice as a yoga teacher
Hone your teaching skills
Polish your personal practice
Learn the craft of vinyasa rhythm and pacing
Develop the techniques to teach safe and creative beginning and open level classes.
This powerful training will help you manifest your true essence and "Take the Seat of the Teacher" with confidence and grace.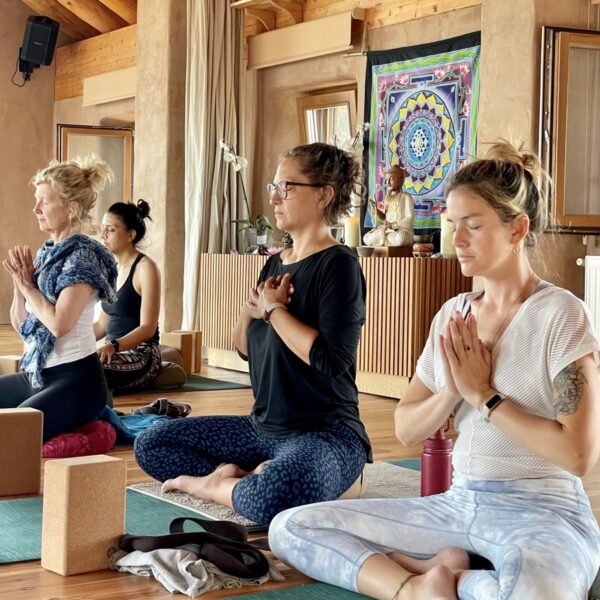 Curriculum
Asana Lab 2
Alignment and energetic principles of foundational yoga poses
Reading bodies to learn how to see which areas are collapsing or overworking and how to bring balance into the pose
How to adapt the poses to meet individual students needs
How to incorporate verbal alignment instruction in a vinyasa flow
Intelligent Creative Sequencing
Teaching practicums with personalized feedback
Hands-On Adjustments
Yoga philosophy
Finding your voice as a teacher
The Business of Yoga
Meditation
Meditative Hiking
Pranayama
Chanting
Requirements
Open to students who have completed Yoga Sukhavati Teacher Training, Level I – EVOLVE.
Level II – EMPOWER is a required course for the 200 Hour Yoga Teacher Training at Casa Cuadrau. It counts as 100 hours towards your Yoga Alliance Certification. 
Once you have successfully completed both Level I and Level II, you will receive your Yoga Sukhavati 200 Hour Yoga Teacher Training certificate and be eligible to register as a yoga teacher with Yoga Alliance (E-RYT-200).
---
Registration Details: